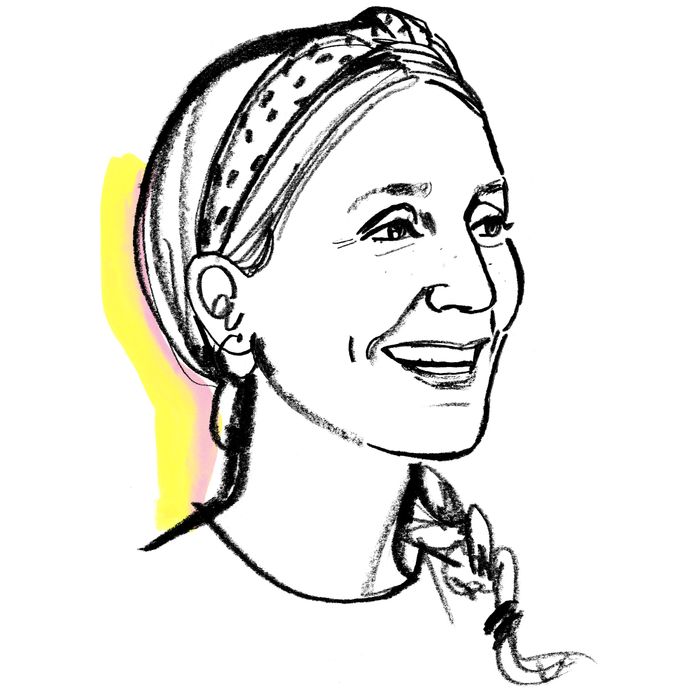 Illustration: Lauren Tamaki
Christina Tosi is the mastermind behind some of the sweetest creations known to man: B'Day Truffles, Compost Cookies, and Cereal Milk, all at her bakery Milk Bar. The American chef, author, and television personality opened up shop in 2008 with seed money from Momofuku restaurant group's David Chang, her boss at the time. Back then, "Milk Bar" consisted of one modest-size East Village storefront — when visiting, you had to cross your fingers that they weren't sold out of your favorite treat. Today, Tosi has over 12 retail locations across the U.S. and Canada, with a shiny flagship in NoMad. She has authored five books, has been a judge on MasterChef, and connects with fans through recipe sharing and live Instagram sessions she calls Bake Club. In addition to being a new mom, she is currently at work on a memoir, Dessert Can Change the World, out March 2022 (don't worry, it has recipes, too), as well as filming for a new season of Bake Squad on Netflix. She lives in New York with her husband, restaurateur Will Guidara, and daughter, Frankie.
On mornings:
I usually wake up before or with the sun. I just got a puppy recently and so early morning usually includes snuggles and trying to potty train a puppy. Waking up and working on a new recipe at 6 a.m., you'd be surprised how much you can sort of fit in. I make a strong pot of coffee. Sometimes I eat breakfast. Often I don't because we're tasting cookies or we're ordering ingredients for a new cookbook or whatever it is. I have gotten into stretching in the morning, which is such a wonderfully old-lady thing to say. It just makes such a difference getting the blood flowing, and no matter what I carry with me from work the day before, or how I slept, it just changes my reality.
The hilarity of all of this is for the longest time, I was a night owl when I worked. When you're a classically trained pastry chef and you work your way up in restaurants, you're serving people dessert from 6 p.m. to 2 a.m., and you get home around 3 a.m. or 4 a.m.
On working remotely:
I am still splitting my time being in the office, being in the kitchen, being in the kitchen at home, being in the city, upstate and then every once in a while getting on the plane to film another season of Bake Squad. I'm doing a little bit of everything, which I suppose is not that different from what it was like a couple years ago, only there's home time, which is nice as a new mom.
On writing her first memoir:
Early in the morning or super-duper-late at night after everyone else has gone to bed, I've been working on this memoir. It's called Dessert Can Save the World, and it's a collection of stories, lessons, and little one-off recipes. It's been really fun to do. A lot of the time, none of us really slow down enough to do the look back, and I've found value and importance in that look back. What just happened these last 13 years? And how does it bond us together? And what does it all mean?
On making time for home life:
Frankie holds us to a slowness at certain moments in the day that we probably otherwise would've tried to cram too many things into. Every morning, rain or shine, I'll bundle her into a baby carrier and go outside for a walk. Sometimes the walk is very long, sometimes it's 15 or 20 minutes, but she loves to be outside. There is a beautiful sort of slowness and stillness that her presence has built into early mornings and evenings that just give me time and space.
On finding inspiration and staying sane:
Doing everything from going to McDonald's in search of the very newest limited-edition dessert to being like, "I'm going to get some French fries and Cereal Milk," I kind of think about, How can I break the rules like a kid? Those daily moments and decisions that make me feel lighter inspire me.
On checking in with yourself:
I don't ever feel burnt out. I definitely sometimes feel heavy or worn down. My philosophy is to always measure myself at the end of the day, to say, How are you doing? It's the same thing that I ask myself in the morning: What do you need? and then What does the team need? I kind of have a little bit of a conversation with myself like, Did you leave a person, a place, a thing, the world better today than you found it? And I think that always gives me a lightness. Checking in with myself is important.
On working with large teams across different cities:
It is honestly very complicated and also very simple: It comes down to having a team of incredible people. Finding them and recruiting them and hiring them is certainly a big piece of it. No matter how much I am or am not traveling, there has to be a weekly commitment to touching base with each other, calling each other on the phone, FaceTiming, treating them as though you're like daytime family members. Holding the relationship to a professional extent but also connecting with them as people that are really important members of your life. And then having the confidence and the trust that they are all plugging in with each other and that you're all marching towards the same vision.
On scheduling:
I always save time for myself at the beginning of my day and at the end of my day. And if that means I'm waking up at four or five in the morning, I do it, because I am much more calm and centered and at peace and ready to give all of myself to my team when I do that. I look at my calendar a week or two out — I really like to be inspired in the moment and be present, but I don't ever go into a day not knowing what I'm getting into. I also spend a good amount of time thinking about what serves me best from a calendar standpoint. I usually try to pack a lot in on Tuesday, Wednesday, Thursday and leave Monday and Friday a little bit more free to catch up or wrap things up.
On the importance of snacking:
If I'm being really honest I eat one meal a day, and it's dinner. I usually eat dinner between 8 and 10 p.m. I love to snack. I don't ever say no to it. As you can imagine, we have a crazy amount of dessert in our universe between the stores, our R&D lab kitchen, recipe testing — especially going into grocery this year. Our cereal game at our office is insane. We're always bringing in snacks for one another to say, "Oh, this packaging is awesome," "Look at this flavor." That's basically how I live my life when my husband and I tag in and out of child care and when one of us is out of town. I'm like, "Oh, we're gonna miss you so much," but also for me it's the utmost excuse to just basically snack for that many days straight without ever having to eat a real meal with another human. I've been living for cozy, dinerish food. I'll make myself French-toast sticks or little miniature pancakes so that I can roll something up in them and eat it.
On building a community through sweets:
I'm continuing to build the Bake Club community and create space for people to use baking as a tool and as their way into the world to connect with one another. We recently launched our products at grocery stores. It's just been really fun, doing more and doing better than what exists in the grocery stores, doing things that are more colorful and more magical and more rule-breaking, because we can, and we should.
On being spontaneous:
Are we eating dinner or snacking? What do I wanna do with my night? I try to look at that with fresh eyes and fresh opportunities. And that's how I approach every day. Whether that's lighting a fire or playing a card game or just being more purposeful about a specific routine. What do we want our night to be? Do we wanna be ridiculous? Should we just put on music right now and have a dance party? It's just stopping and asking the question of what we want it to be and throwing out good ideas and bad ideas and then choosing one and committing to it for an hour or two or three. It's funny to say out loud, but it's something. If we're in the country, do we wanna get flashlights and just go outside, or should we just order six different ice creams on-demand and have an ice-cream tasting and decide which one is the best ice cream now and forever? It keeps us on our toes, and it reminds us that we create our own reality.
On ending the day:
I always watch TV in bed, for good or for worse. That's definitely one of my guilty pleasures. You can usually find me with ice cream or cookies or candy in bed watching a TV show. This is like my security blanket. Beyond that, I usually stop to think about, Does anybody else need anything from me? Is there something I left on the table in terms of expressing gratitude or saying "Great job" or "Thank you" to anyone? Once Frankie is down and work is put away, if it's not a late night or an all-nighter writing, I still relish putting on a pair of pajamas that make me feel like a million dollars and raiding the pantry and making a bowl of something. I don't need an escape to my life, but that feels like I'm just in a different universe and a different moment in a different space, because I don't move around and travel around as much as I used to.