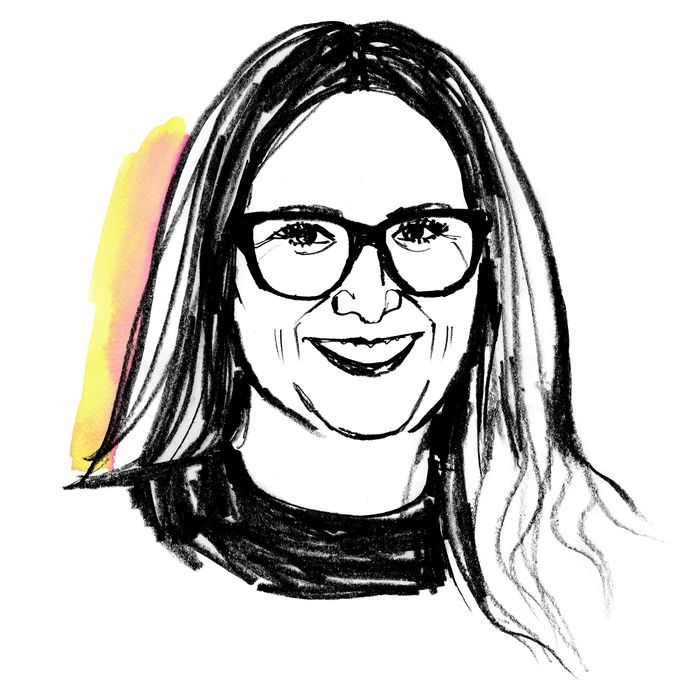 Illustration: Lauren Tamaki
Susan Rovner has probably had something to do with your favorite television show. She is the chairman of entertainment content for NBCUniversal television and streaming, a new role she was the first to step into in October 2020. That means, yes, she is in charge of Bravo and E! as well as four other cable networks. On top of that, she oversees NBC's broadcast network and its new streaming service, Peacock. Prior to joining NBC, Rovner worked at Warner Bros. for over 20 years, most recently as president of Warner Bros. Television. While there, she worked on hit shows like CW's Riverdale and Gossip Girl and Netflix's You. The mother of three (and two dogs) grew up in Long Island and attended Barnard College to study math. It wasn't until she felt like she needed something more creative that she decided to move to Los Angeles — without knowing a soul there — and started a career in Hollywood, where she still lives with her family. Now she's one of the most powerful names in television. This is how she gets it done. 
On her typical morning: 
I'm an early riser. I tend to wake up between five or 5:30, and the first thing I always do is start with coffee. Then I sit and go through my emails and come up with priorities and a plan for the day. Before things get really crazy, I love to keep that quiet time and either read a script or watch a cut of a show that we're working on. I'm a multitasker, so I often do that on the treadmill.
On her career path:
I thought I was going to take a more traditional business route. Then I graduated and had this freak-out moment where I wasn't sure that was really my personality and didn't know I would be happy doing that. I ended up getting a few summer jobs to save enough money to move to Los Angeles. I had enough money to live on for three months. I took a huge risk. I didn't know anyone in Los Angeles, and I just moved out here and gave myself three months to find a job. It was toward the end of that three months that I found one. It was at an agency, and I immediately fell in love. I just knew that the risk was worth it.
On the best part of her workday: 
I love television. I love working with creative people. So the meetings that I love the most, the thing that I love doing most in my day, is talking to the creative talent, hearing ideas, working on the script. And getting to say yes to shows that I love.
On taking criticism:
​​I think criticism is not a great word. Feedback is better. Criticism feels so negative. But you definitely need to hear it and take it in. I believe you can always be better. You always need to be learning. You always need to be asking yourself, Am I being the best that I can be in each moment? That said, it's also okay to disagree with criticism sometimes. You have to listen to your gut. You have to say, You know what? I'm being authentic to who I am. It's a combo platter. You need to listen to the feedback or criticism. I think you always need to be learning. I think you always need to be adjusting. I think you can always be better, but there are times that I think you have to also listen to your gut and be authentic to who you are.
On prioritizing: 
The number one most important thing in my life is my family always and forever. My second love is television. As a mom, you get pressured that you're not allowed to say that you love your career. I love my career. I'm not ashamed of it. It's a huge part of who I am. It's good for your kids to see that you can love what you do. My kids are better for seeing that I want to be successful.
On justifying what content gets put out into the world: 
Ultimately, when someone who is smart and creative and talented comes in to pitch a show with passion and says, "I have to tell this story. I have to make this TV show. I believe in my heart that this is a hit," that's the thing that I find most exciting. Quality is the word that's really important to me. I think when we put anything in front of an audience, we have the responsibility to make sure of its quality. Whether it's Riverdale or a documentary, whether it's La Brea or The Real Housewives, whatever it is that we put in front of an audience, we have to make it the best it can be. It's really important that we do a wide range of content because we are programming to a lot of people and people have very different tastes, and I respect and honor everyone's taste.
On ambition: 
When I was at Warner Bros. early in my career, I was working so hard and keeping my head down and just doing the job. I wasn't getting promoted and I wasn't moving ahead, and I was really frustrated and doubting myself and not sure why this wasn't working. Someone pointed out to me something called Tiara Syndrome, which is when women in particular keep their head down and they work really, really hard and they hope and they pray that someone is going to come to them and say, "Oh my God, you're a queen, and I'm gonna put this tiara on your head and I'm going to promote you and I'm going to give you everything." And that doesn't happen. What I realized when this was pointed out to me is that what I needed to do was lift my head up, look around, and make sure people around me knew what I wanted and actually make my intentions more clear. I wanted to run the studio one day. I wanted to be in charge of the creative side. So I lifted my head up and I made my intentions known, and it changed the entire trajectory of my career. It was such a defining moment for me where I realized, again, you have to let your ambitions be known. You can't assume that just by working hard, people are going to understand your hopes and dreams. You've got to make sure they're aware of it.
On unwinding: 
I watch a ton of Bravo. Literally every night, I watch at least one hour of Bravo. I converted my family to watch it with me, too. I have a husband and three kids, and they help me manage my stress a lot. I try to walk with my husband and my two dogs everyday. We do it in the morning, and we do it at night. It's just nice — we can go through our days, catch up, not have a phone on us, and really just talk.