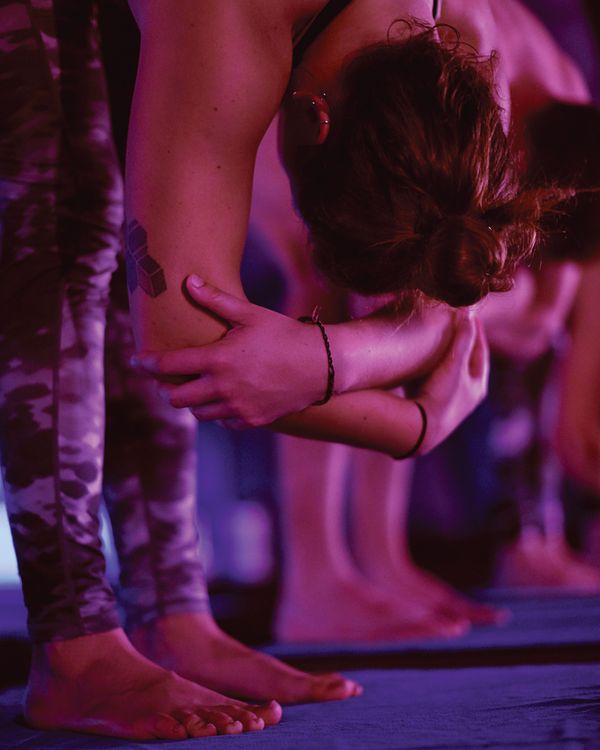 Photo: Rich Maciver / Gallery Stock
I used to complain, very charmingly, that my competitive spin class wasn't competitive enough, because it divided its ranking of its fastest participants by gender. My argument was less "gender is a construct" and more "put me in, coach, I'm faster than all of them." Coincidentally, I was also dependent on physical therapy and, not infrequently, I couldn't walk without seizing pain in my glute. One appointment, my physical therapist questioned my activity earlier that day: Had I really biked across boroughs to a spin class, then to work, then to our meeting to address muscular fatigue? Of course, I answered: Biking was the most efficient way to get anywhere; spin class was the most efficient way to exercise.
At the age of 28, I was overexerting myself. And I might never have learned my lesson if left to my own devices, but in early 2020, exercise studios shut down and I stopped hurtling my bike across the city, because I had no plans anymore. Six months later, the competitive spin chain I used to attend filed for Chapter 7 bankruptcy and permanently closed its studios.
More than two years of pandemic — which shuttered gyms and boutique fitness studios globally — have quaked the fitness world and created an entirely new landscape in workout culture. This new mind-set increasingly prioritizes restorative, mindful movement over punitive and aggressive challenges. Fitness companies market themselves as tools for mental health. Top-tier exercise platforms — like Apple Fitness+, Peloton, Alo Moves, and Obé — foreground meditation classes, and Mirror, for example, reported that completion of its meditation classes grew by 80 percent in 2021. Market forecasters indicate that "holistic fitness" — an approach that emphasizes recovery and mind-body practices like Pilates or yoga — is set to become a dominant force in the exercise field. And there are signs that the most challenging workouts are losing their stronghold; the American College of Sports Medicine's Health and Fitness Journal showed that HIIT, high-intensity interval training, dropped in popularity from its No. 2 spot in the worldwide survey of fitness trends (sent to thousands of professionals in that field) to No. 5 last year — being just surpassed by the wholesome-sounding "outdoor activities."
In the past year, lower-intensity programs like dancing became one of the top-ten most popular fitness activities for the first time (in terms of attendees), according to Mindbody, the fitness-management and booking software. Walking, both silly and serious versions, was one of the buzziest physical activities in the past two years. Some of these qualms about HIIT workouts might be based on new information: A prominent NIH study published in May 2021 reported that excessive exercise training impairs health functions in otherwise healthy volunteers.
Just a few years ago, "the primary motivation was to look good," says Sunil Rajasekar, Mindbody's chief technology officer, "and now it's pandemic stress management." Mindbody's 2021 trend report confirms this point: The new, leading motivation for exercise among its consumers is mental health. Rajasekar — who, when I met him a few months ago, told me he'd used an Instant Pot filled with water as a makeshift kettlebell in the early pandemic — says this is a dramatic shift in clients' outlook. With the priority of reducing stress in mind, says Rajasekar, "People are expanding their fitness routines."
One of the sharpest examples of this transition in fitness culture — from looking good to feeling good — is the Pilates platform Studio Qila. Until recently, the program was known as Body by Bridget, named by founder Bridget O'Carroll in 2016. "Back then, the goal was making it as hard as possible," says O'Carroll. But more recently, the Body by Bridget name smacked of diet culture, and O'Carroll couldn't stand it anymore. She needed to shed a destructive, high-intensity mind-set. "I want this to be something I could sustain over a long period of time," she says. She started to talk not about physical transformations, but mental ones. She turned to a dictionary for her Alaskan native language of Aleutian and found qila, a word for spirit, and relaunched her program this past November. "I loved the shift of the focus from body to spirit."
The new prioritization of physical sustainability is promising, according to Pilates instructor Lia Bartha, who has developed a particularly restorative form of the practice called B the Method. "People are trying to find ways to connect deeper, inside of their bodies, instead of distracting themselves with movement — like you would with something high-intensity," she says. "With the pandemic, people are focused on long-term health to protect their body for the future."
CityRow founder Helaine Knapp agreed that for many of us, our new relationship to fitness might reflect that we've gained a general sense of mortality: "We are realizing that we're going to be moving every day for the rest of our lives, so we better be careful with our one body and not pound the pavement with high-intensity workouts seven times per week."
A sense that life is short and fleeting has also reduced any patience with bullshit, says Amanda Butler, a personal trainer with Onyx. She tells me, with emphatic, energetic pride: "Diet culture is finally starting to be shamed. There's been a lot more progress in the two years than in the past ten years." People are starting to insist that exercise express the pleasures of how they can move instead of being an obligatory regimen to punish the way they look. Butler, a former cardio obsessive, now loves walking — "I really love anything low-impact" — and has been trying to pass this appreciation along to her clients. "It has been ingrained into us that the harder you work, the more you sweat, the better the workout."
Over the past couple years, it's also been cheaper and easier for people to test new programs. Digital classes were often free to try, and no commute to work freed up a hunk of time for some of us. Mindbody's survey noted that on days people work from home, they are twice as likely to try out a new fitness studio. Upended schedules prompt exploration and more introspection of what feels good, says Dr. Chloe Carmichael, a psychologist and author of the book Nervous Energy. A former yoga teacher as well, Dr. Carmichael has a bird's-eye perspective on people's relationship to fitness. Rather than a maximization approach, she sees a joyful sampling taking hold of attitudes about exercising. "It's like the Montessori school of fitness — where a child gets to run around and do what they want to do."
Pre-pandemic, I was constantly asking my body to do things for me — to pump my legs faster, to do this harder, do it for the glory and to ignore the warnings from my perpetually disappointed physical therapist. My body listened to my requests, because I am very convincing, but it also kept having meltdowns. Now, I think that my constant question to my body has adapted from something like, What do I want you to do today? to something more like, What do you want from me today? It's possible I've become more humble. My relationship to exercise started to become less gladiatorial. Now, I prefer lower intensity. I do dancerly aerobic routines that I would have never wasted my time with, or even considered exercise.
I keep thinking about something O'Carroll often repeats in her Studio Qila classes: "Form over ego." In the old-school hierarchy that I learned, ego (the mind) is meant to rule over id (the body). But this never quite worked out for me. And, though I never expected it, getting ego out of the way has been gloriously painless.