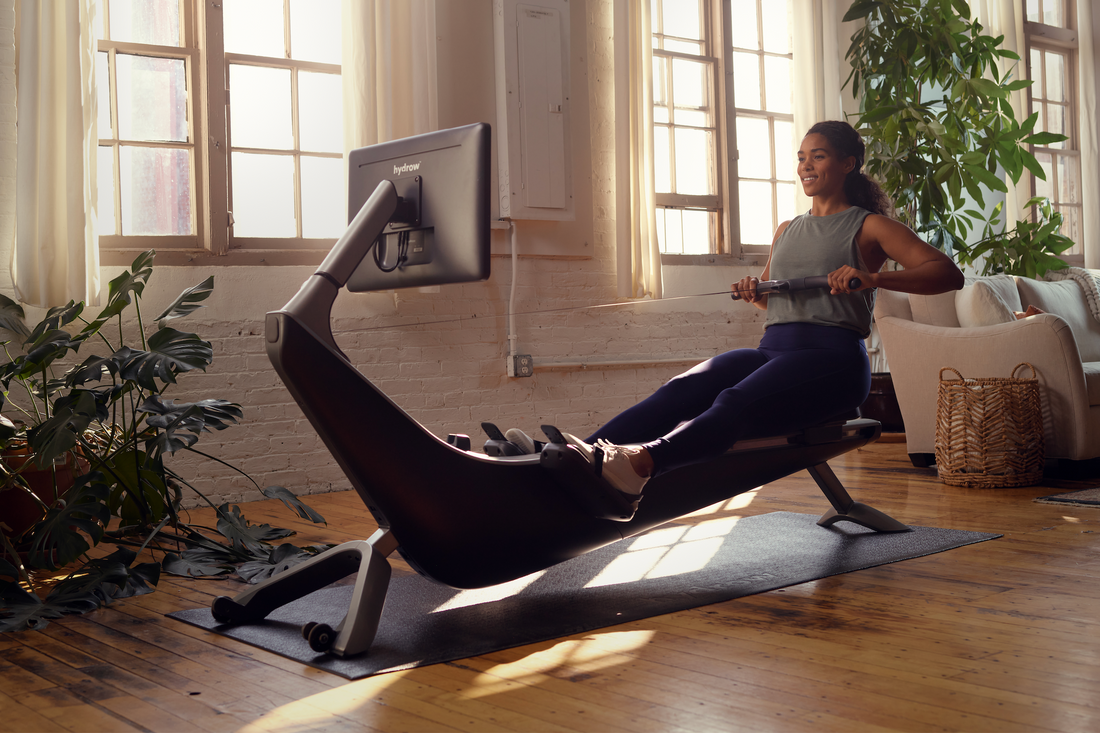 Photo: Courtesy of Hydrow
Millions of people set new, health-related goals and resolutions year after year. According to a recent survey, improving fitness and losing weight were the top two resolutions for 2021, with half of the respondents saying they planned to take action on it in the new year. But as we've all come to know, most resolutions fizzle out after just a few weeks.
So how can people give themselves a better chance of succeeding? Instead of going for unhealthy or unrealistic goals, think about creating small, repeatable healthy habits. These types of "micro modifications" — smaller things you're more likely to adhere to — are ones worth making. Case in point: finding an efficient, effective, and entertaining workout can go a long way toward helping develop sustainable habits.
When you sweat with Hydrow, an immersive at-home rowing machine, you can work 86% of major muscle groups. That's twice as much as other fitness machines and better than running or biking, which means you can get a super-efficient workout, faster. And who doesn't want that? Set aside those dumbbells, and take a look at the fun, stick-with-it perks Hydrow can give you during resolution season and beyond.
Hydrow creates the feel of the outdoors, live
With Hydrow, you can appreciate the thrill of working out in real-time with Hydrow Athletes and other rowers from around the globe. Hydrow is an at-home, digitally connected rower that brings the feel of an on-water, outdoor rowing experience into your place. The company uses patented technology to capture everything from the sights and sounds of nature to the camaraderie you'd typically only experience outside. The result is a unique workout experience that lets you break out of the dark studio and enjoy engaging workouts filmed on stunning waterways and scenic locations worldwide — from Boston to Miami to London and beyond.
Rowing is a low-impact activity
Part of finding a fitness routine you'll stick with is finding one that's gentle on the body. Unlike many other forms of high-intensity exercise, rowing is comparatively gentle on the joints. A muscle strain or injury from overuse can quickly short-circuit your aspirational fitness goals, but you won't have to worry about this with rowing. There's a reason rowing can be prescribed in physical therapy: It requires stable movements, with your feet remaining in the same position throughout the workout.
Rowing scales up with you as you improve
Whether you're an elite athlete with years of training or haven't exercised in years, rowing can meet you where you are. As you improve over time, you'll learn better ways to make the most out of every stroke. Of course, as with other forms of cardio, you'll likely get faster. But rowing also continues to help you stay challenged to keep things engaging.
World-class athletes teach Hydrow workouts
Athletes are the centerpiece of the Hydrow experience. World-renowned, nationally-ranked champions will guide you throughout every move and stride. Since the pro athlete rows the entire workout with you while they teach, you can watch their oars and move in tandem. Hydrow also offers Pilates, strength training, yoga, and more, in a library of over 3,000 on-demand workouts for those rest days. With that many sessions, there's always something for everyone.
This advertising content was produced in collaboration between Vox Creative and our sponsor, without involvement from Vox Media editorial staff.