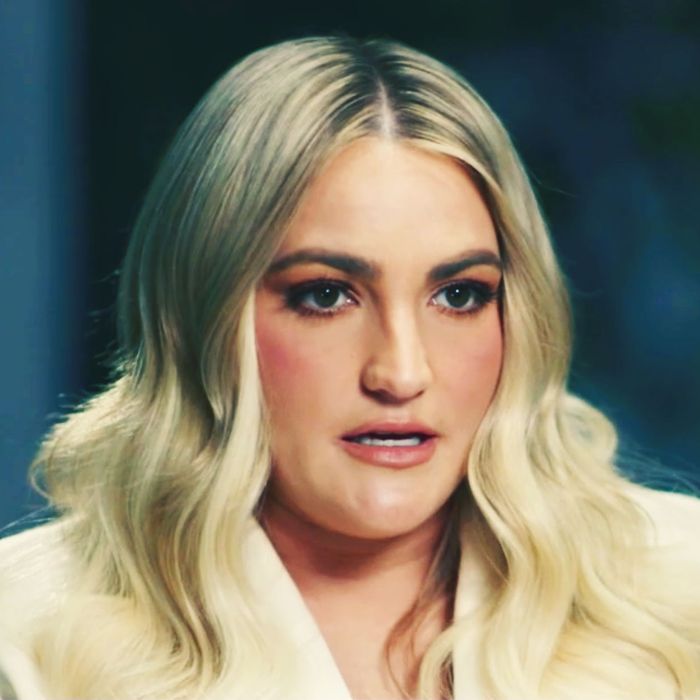 Jamie Lynn Spears is speaking out again. In an interview with ABC News anchor Juju Chang this week, Jamie Lynn talked about her relationship with her older sister, clarifying her involvement in Britney Spears's conservatorship, and … promoted a new book? "It was really important to me to, first off, honor my voice," she said, explaining why she decided to write her forthcoming book, Things I Should Have Said.
Growing up, Jamie Lynn said she "adored" Britney, saying she "felt like another mama." However, as time went on, she remembered Britney's behavior changing. In the book, per ABC News, she describes Britney's behavior as "erratic," "paranoid," and "spiraling." When asked how she believes Britney is doing now, Jamie Lynn said she "can't really speak to anyone else's state of mind. I don't think that's fair. But I'm allowed to say how I felt in those moments, because that matters. It matters that I was in pain."
That "pain" seems to be in reference to her overall family dynamics. Describing her relationship with her father, Jamie Spears, Jamie Lynn said his struggle with alcohol addiction gave her "anxiety," often leading her to wonder whether she could trust him. "It was something that no kid should have to question," she said. Her father's relationship with Britney has been heavily scrutinized, given the amount of control he held over his daughter's life.
When talking about her involvement with Britney's conservatorship, Jamie Lynn painted a different picture than Britney has previously described. Saying she has never held any kind of financial control over Britney's estate, unlike her father, Jamie Lynn added that she even tried to help dissolve the conservatorship. "I've always been my sister's biggest supporter, so when she needed help, I set up ways to do so," she said, noting, "I went out of my way to make sure that Britney had the contacts she needed to possibly end this conservatorship." She said she even spoke to Britney's previous legal team, but that "did not end well," though she didn't clarify. "Everyone has a voice and it should be heard," she continued, saying that said did her best to open those doors for Britney, but it was up to her sister to "walk through the door."
When asked how she felt about Britney's conservatorship termination, she said, "I was happy. I was." She also said she didn't always fully understand what was going on with her sister's legal battles: "When the conservatorship was put into place, I was 17 years old. I was about to have a baby, so I didn't understand what was happening. Nor was I focused on that. I was focused on the fact that I was a 17-year-old about to have a baby. I understand just as little about it then as I do now." Jamie Lynn, now 30, spoke about how members of her family and management team didn't always give her the kind of support she needed when she got pregnant in 2007. "I think that the easy thing back then would have been, 'Let's just get this over with and, like, you go back to being the perfect little sister, because that's your role,'" she said. "I just, like, thank God that I, like, you know, thank God I stood up for myself and said exactly what I wanted."
Prior to the news of this week's interview, Britney appeared to call out her sister multiple times and also unfollowed Jamie Lynn on Instagram. After Jamie Lynn spoke out for the first time last summer, Britney implied her sister was being hypocritical. "How dare the people you love the most say anything at all … did they even put a hand out to even lift me up at the TIME !!!??? How dare you make it public that NOW you CARE … did you put your hand out when I was drowning ???? Again … NO," Britney wrote in an Instagram post at the time. Later, she said she "didn't like" Jamie Lynn's 2017 performance for the Radio Disney Music Awards, in which Jamie Lynn performed a remixed medley of some of Britney's biggest hits. "Honestly, it was somewhat confusing to me about that, and I actually have spoken to her about that," Jamie Lynn said in her conversation with ABC News. "I was doing a tribute to honor my sister and all the amazing things that she's done."
When asked about how she feels about Britney today, Jamie Lynn replied tearfully, "That love is still there. One hundred percent. I love my sister. I've only ever loved and supported her and done what's right by her, and she knows that, so I don't know why we're in this position right now."
Britney, it seems, is having none of her sister's GMA interview. On Thursday, she took to Twitter to make a statement about the situation, expressing disgust with her family and suggesting that Jamie Lynn was using her conservatorship struggles to "sell a book at my expense." On Instagram, Jamie Lynn responded with a lengthy statement of her own. "It's getting harder for me to rationalize to my oldest daughter why our family continues to get death threats, as a result of their aunt's vague and accusatory posts," she wrote. Addressing Britney's claim that she used her older sister's story to sell books, Jamie Lynn added: "I hate to burst my sister's bubble, but my book is not about her." (Allegedly, early readers have already found Britney's name in the manuscript multiple times.)
The feud appears to be ongoing. This afternoon, Britney posted a response to Jamie Lynn's statement, accusing her sister of being a "scum person" and stooping to a "whole new level of low," and begging her to "stop with these crazy lies for the Hollywood books." Britney also refuted a claim Jamie Lynn makes in her memoir, in which an "erratic, paranoid, and spiraling" Britney allegedly took a knife and locked the two of them in a room together.
"I've never been around you ever with a knife or would I ever even think to do such !!!" Britney wrote.
Britney's statement ended with a note of … not-so-congratulatory congratulations: "Congrats on introducing your older sister to the concept of getting LOW … LOWER … LOWEST … because you win on that one, babe!!!!"
Jamie Lynn appeared to respond on Instagram, posting a vague message to her stories that read, "Nobody trashes your name more than someone who's afraid you'll tell people the truth." Things seemed to settle down after that, but it wasn't long before Britney once again took to Twitter to set the record straight.
"Jamie Lynn … I don't think your book is about me at all," she wrote in a new message on Saturday. "I said some harsh things because you obviously hurt me by the things you are making up about me." In her statement, Britney claimed that her sister wasn't always there for her, and seemed to push back on Jamie Lynn's claims that she had tried to help her sister fight the conservatorship. "You guys did absolutely nothing UNTIL a year ago," she wrote. "I said something on Instagram and you and Bryan showed up at my house … because of that Instagram post !!! THAT makes me the saddest." Regardless, Britney concluded her statement by saying that she loved Jamie Lynn "unconditionally."
Jamie Lynn responded on her Instagram Story, calling on her sister to get in touch with her privately. "Just call me, I have attempted many times to speak to you directly and handle this privately like sisters should, but you still choose to do everything on a public platform," she wrote. The memoir writer then seemed to threaten to release receipts, adding, "In the meantime, please stop continuing the narrative that I haven't been there for you or that I'm making things up. I'm happy to share how many times I've reached out to you, supported you and tried to help you." She finished saying, "This is embarrassing and has to stop. I love you."
Perhaps after all this social media back and forth, we have finally come to a tentative truce among the Spears sisters.