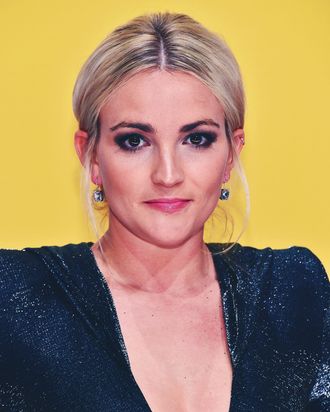 Photo: Michael Loccisano/Getty Images
Jamie Lynn Spears has said her new memoir, Things I Should Have Said, is not about her sister. Yet it's hard to ignore the timing: The tell-all arrived on shelves this week on the heels of Britney's extremely publicized conservatorship battle. Ever since Britney's explosive testimony about her 13-year conservatorship — where she revealed just how little control she had over her life or finances — the Spears family has been in the spotlight, with Britney going as far as to say that they should "all be in jail" for what they did to her.
The timing did not go unnoticed by Britney. After Jamie Lynn promoted the book on Good Morning America last week, Britney accused her of using the conservatorship battle to sell books, ultimately sending her a cease-and-desist order citing "misleading" and "derogatory" comments. For her part, Jamie Lynn has said she wrote the memoir to "honor her voice" and speak to the "pain" she's felt "because that matters." And the book makes clear that she has faced pain. In Jamie Lynn's account, her father's alcoholism loomed large over their family life, while she and her mother, Lynn, used to lash out at each other regularly, with things getting bad enough that she says she considered child emancipation. She claims that Jamie and Lynn loved the attention that came with having famous children and that the "power struggle" between the two parents intensified as their daughters became more and more successful. "We were a tight-knit family torn apart by money, distorted truths, and undisclosed personal issues," she writes.
She also writes at length about her unplanned pregnancy in 2007, when she was 16. At the time, Jamie Lynn had just wrapped Zoey 101, the teen comedy she starred in on Nickelodeon, and she describes how, overnight, she went from a budding teen star to a "slut" in the public eye. It's painful to read: Jamie Lynn recalls being hounded by so many paparazzi that she couldn't buy her own pregnancy test, her doomed attempt to make her relationship with her ex work, and her decision to keep the baby against her parents' and team's wishes.
Yet her raw account of her own suffering makes it all the more jarring that she doesn't extend the same compassion to her sister. The book is peppered with unsympathetic mentions of Britney's mental health struggles in the 2000s, which Jamie Lynn refers to as sources of "embarrassment" for Britney. Without more than a surface look at the context of what Britney was dealing with — her public divorce, her mental health and postpartum struggles, the tirade of paparazzi and unrelenting cruelty of the media — Jamie Lynn paints her sister's behavior as "erratic," "moody," and "paranoid." At one point, she recalls Britney locking the two of them in a room together with a knife — an allegation Britney has categorically denied, writing that "only a scum person would make up such things about someone."
Meanwhile, Jamie Lynn wavers between portraying herself as an oblivious 17-year-old in 2008, the year the conservatorship went into effect, subsumed by her own difficulties, and as a guiding light in her sister's life who helped "keep Britney's emotional episodes hidden from the world." Instead of denouncing the conservatorship that stole away her sister's rights, she reiterates the Spears family narrative that it was for Britney's own good, describing it as her father stepping up to "help Britney during her difficulties in the past couple of years."
The contrast between this depiction and the way Britney has described her situation is striking. In her June testimony, the first time she spoke publicly about the conservatorship, Britney called the arrangement "abusive," saying she didn't feel she could "live a full life" because of it. She also alleged that she was medicated without her consent and forced to have an IUD, even though she wanted to have a baby. Speaking of her father, who was in charge of Britney's personal life and finances until recently, Britney said: "He loved the control to hurt his own daughter, 100,000%." (In a recent interview with Call Her Daddy, Jamie Lynn changed her tune somewhat, claiming that she tried helping Britney after she told her she wanted out of the conservatorship during a family trip to Hawaii, which likely took place in 2016. On Twitter, Britney has said otherwise, writing that Jamie Lynn's loyalty is "still with the people that hurt" her the most and that her siblings did "absolutely nothing" for her until she made an Instagram post a year ago.)
The harrowing abuses that Britney relayed in her testimony shook a global audience. But they apparently didn't rattle Jamie Lynn. In what might be the most insensitive chapter of the memoir, titled "My Testimony," Jamie Lynn glosses over Britney's account of injustice, reframing herself as the victim. She blames Britney for the "onslaught of hate" she says was directed at her following the testimony and suggests that Britney's supporters have "incomplete" information, though she did not clarify further.
In a memoir that purportedly doesn't use Britney as a selling point, the name "Britney" appears some 315 times, according to Newsweek, with a sizable portion of chapters dealing explicitly with her conservatorship. Yet somehow Jamie Lynn never pauses to consider what 13 years of robbed freedom might have felt like for her sister. It's that repeated oversight that makes Things I Should Have Said such an uncomfortable and unsettling read.