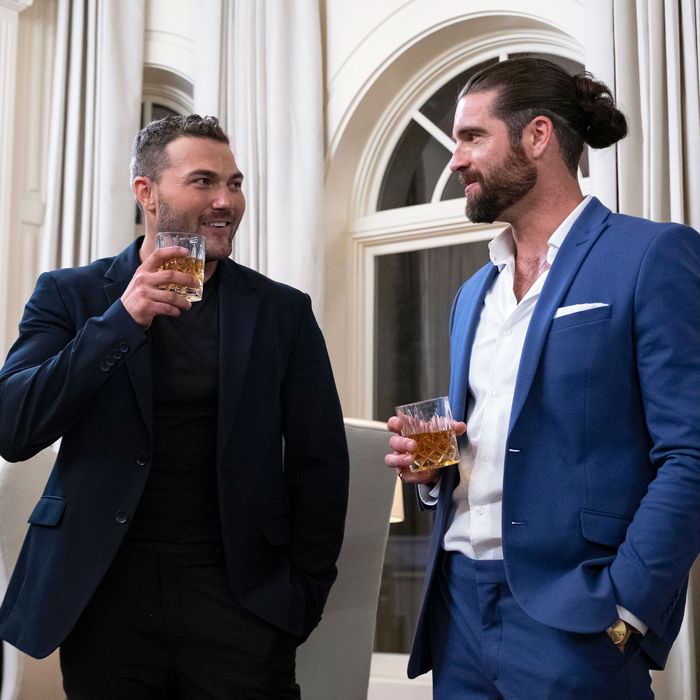 Can you tell which of these men is worth $10 million?
Photo: Wilford Harewood/FOX
The early 2000s birthed a new generation of reality TV best categorized as Gaslighting Lite. They told the contestants one thing ("This man is Prince Harry"), only to reveal the truth to the audience. (The man was not, in fact, Prince Harry.) One such show was Joe Millionaire, a reality dating competition that told 30 women they were vying for the love of a man who, as the title suggests, was a millionaire. Of course, he wasn't a millionaire. The show ran for just two seasons, and I'm not saying it's only because, in order to cast season two, producers had to go to Europe to find women who weren't familiar with the premise of the show. However, exhausting the eligible singles of America in one season certainly isn't sustainable. Nevertheless, they appear to have persisted, creating a reboot of the show titled Joe Millionaire: For Richer or Poorer, which premiered on Fox on January 6.
From the start of the episode, the show acknowledges the original Joe Millionaire was centered on "deceiving women into believing a fantasy." So they aren't going to do that this time. Kind of. Instead there are two "Joes": one who is worth $10 million and one who is … not. While we, the audience, know who is who, the 18 contestants don't. If you don't want that information spoiled for you, it's best we part ways here. Best of luck! I hope you find love!
The two men are … fine. There's Kurt, a general contractor who looks like the romance-novel version of a construction worker. He says he's "rich in swagger" and, at one point, grabs a bunch of ice with his hand to put in his drink. Of the two, he's my favorite. Our second bachelor is Steven. He runs his family's farming business in Missouri and is worth an estimated $10 million. He says he's a mama's boy, owns a helicopter, and tells the show's English butler-slash-host, "I've never met a British person." He's best described as a business cowboy. At one point, Kurt admires Steven's "freaking jawline," and I hoped that these two would find love with each other. Alas, the women arrived.
While the group of women is about as diverse as earlier seasons of The Bachelor, there's a significant age range among the contestants. The youngest is 22 and the oldest is 33. The energy in their shared house feels like a sorority meets book club. There's an Olympic-medaling fencer, a handful of "influencers," and someone who previously dated a billionaire. One woman named Jennie is a lawyer during the week, works bottle service on the weekends, and recently won $13 million in a "settlement." I would watch an entire season just about her.
However, the most notable contestant is Caroline, who, upon seeing Steven walk out to greet the women, whispers, "Oh my God. I know that guy." Apparently, the two previously matched on Hinge and follow each other on Instagram. Unfortunately, that meant she'd likely be aware of Steven's millions, and Steven decides to send her home so she doesn't ruin the premise of the whole season. This all happened within the first 20 minutes of the episode.
The other hour of episode one is … also fine. Two girls argue about wearing the same dress. Someone gets too drunk and cries about wanting to go home. The two men bake cookies for the women and bring them to their house. (The cookies, made from one of those break-and-bake Toll House packages, are definitely burnt.)
If you're looking for a reprieve from the current season of The Bachelor, whose titular bachelor is also being sold as a down-home boy from Missouri, Joe Millionaire: For Richer or Poorer is worth a shot. If only so you can witness Jennie before she inevitably joins the cast of Real Housewives.