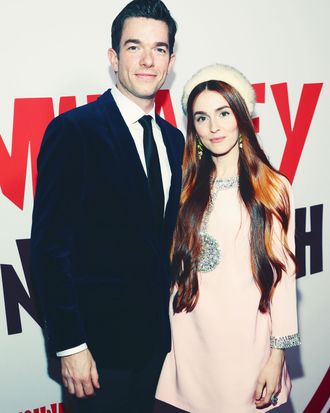 Photo: Manny Carabel/Getty Images
In case the birth of John Mulaney and Olivia Munn's baby didn't make it clear, he and burgeoning TikTok influencer Anna Marie Tendler are officially divorced. Us Weekly has confirmed that, according to court records, the divorce was finalized on Thursday in New York.
News of their divorce first broke in May, a few months after Mulaney checked into a Pennsylvania rehab facility for alcohol and drug abuse. Since then, both parties have been extremely busy. Mulaney swiftly started up an unexpected relationship with Olivia Munn and, as mentioned above, is now a parent. Meanwhile, Tendler has been dispensing invaluable life wisdom on TikTok. (She also made some cool art.)
Most recently, Tendler waved goodbye to a very stressful 2021 on Instagram, which probably means the finalization of their divorce is a somewhat welcome step toward closure. It also frees up Mulaney to focus on his newborn baby, who was last seen hanging out in a huge pot. Wishing them all a slightly calmer 2022.