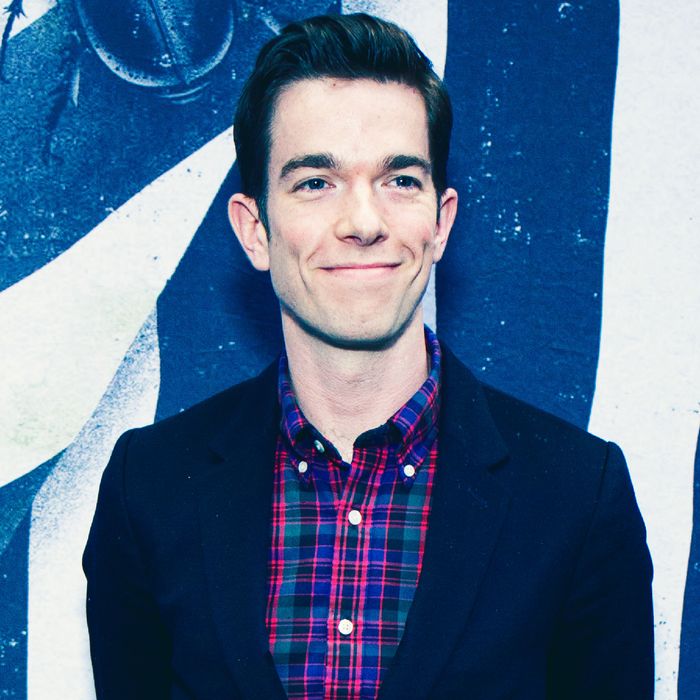 Photo: Santiago Felipe/Getty Images
The qualifications for becoming an Instagram dad are simple. First, you must be a dad. Then, you must post pictures of your child. This concludes the qualifications. As such, John Mulaney is a certified Instagram dad.
On Monday, he posted a new set of photos of his baby, Malcolm Hiệp, whom he shares with Olivia Munn. "Happy Birthday to the tiny man who has been stuck to me for two months," he wrote alongside the photo dump. "Whoever you are sir, you sure are a fun companion." If you, like me, briefly panicked at the words "happy birthday," assumed an entire year had somehow gone by, and failed to process the rest of the caption, fear not. Malcolm, who was born on November 24, turned two months old this week.
You owe it to yourself to look at these pictures of baby Malcolm and bask in their aggressive cuteness. In one, his little baby head is drowning in an adult-size baseball hat. Classic Malcolm! Perhaps even more notably, the photo dump includes a picture of Mulaney with Munn, making this the first time he's posted a picture with her since the two started dating. Does the photo merely show the back of her head? Yes, but that still counts. Also, he tagged her in the photo, circumventing any social-media sleuthing.
On Thursday, we were gifted yet another bunch of cute baby pics from Munn. Not only do they include Henry Golding, his wife Liv Lo, and their daughter Lyla — a treat in itself — there's also a picture of both Mulaney and Munn! Looking at the camera! At the same time! It's one of only a few public photos of the two looking together together.
What's next for John Mulaney, Instagram Dad? A seasonal photo shoot with Malcolm? A funny, 15-second video or three? Matching outfits?? Honestly, if it's just more pictures of this baby in big hats, I will be satisfied.
This post has been updated.