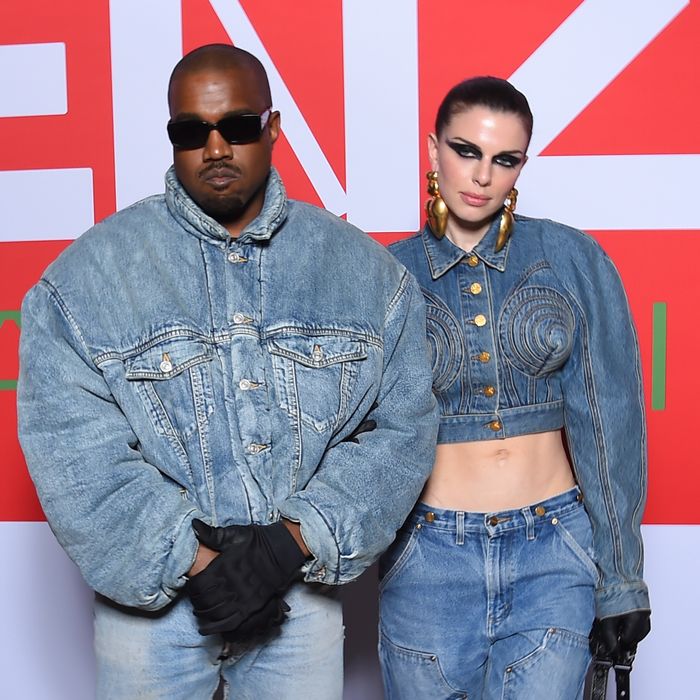 Photo: Stephane Cardinale - Corbis/Corbis via Getty Images
Things are getting serious, or serious in celebrity world anyways. Julia Fox and Ye (a.k.a. Kanye West) made their red-carpet debut as a couple over the weekend, and not since the 2001 American Music Awards has a couple looked so … matching. Ye and Fox appeared at the Kenzo fashion show on Sunday, January 23 — likely the first of many stops during Paris Fashion Week — wearing matching full denim outfits.
It's like they woke up Sunday morning and thought, what iconic couple do we want to emulate? Britney Spears and Justin Timberlake, obvi. Of course, Ye and Fox's actual Canadian tuxedos were far from Brit's patchwork-denim gown and Justin's ill-fitting light-wash suit. Instead, Ye and Fox went for a more tailored look, with Ye wearing simple jeans and a jean jacket and Fox rocking a Madonna cone bra-inspired cropped jean jacket. (Perhaps to remind us of the rumors that she's in talks to play Debi Mazar in an upcoming Madonna biopic.) And both finished off their outfits with black leather gloves covering what I can only assume were very sweaty hands.
It's more than safe to assume that Ye is the one who dressed them for this red-carpet debut — he did, after all, spend their entire second date picking out her new wardrobe. And though the outfit is definitely a departure from the skin-tight leather, velvet bodysuit look Kim Kardashian has been favoring as of late, there are some touches of Kim in the outfit — the leather gloves (to be fair, it is much colder in Paris than in L.A.), the joots.
Ye and Fox might not have "labels" on their relationship, but I think two magazine features and one matching red-carpet appearance is enough to call it: These two are dating, and we might be seeing them around for a while.