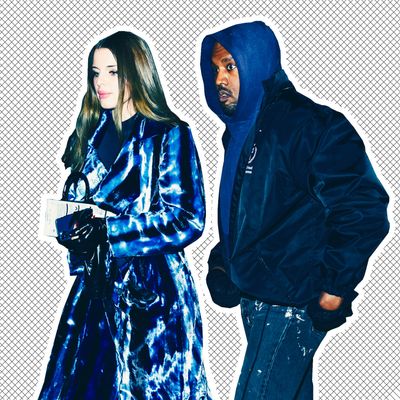 Julia Fox and Ye on their date night in New York.
Photo-Illustration: TheCut; Photo: Gotham/GC Images
It's absolutely freezing, you and/or everyone you know probably got COVID-19 — maybe for the second or third time — and everything seems just generally blah to grim. It would all be pretty hopeless if it weren't for Julia Fox and her mesmerizing love life.
In the course of two Omicron-occluded holiday weeks, the No Sudden Move and Uncut Gems actress and downtown darling publicly dragged the father of her child on Instagram, becoming something of a hero to single moms online, and then — a few days later, on New Year's Eve of all days — began a very public whirlwind romance with Kanye West in Miami. She's eaten at Carbone not once but twice (in Miami and New York); seen Slave Play (with Jeremy O. Harris and Ye); and found a captive, eager, and grateful audience in those of us stuck inside monitoring IG and "Page Six"'s Twitter feed, not to mention ogling over her "real Cinderella moment" in Interview Magazine, as if her escapades are a fabulous new series on Bravo.
"I mean, it's all just happening so quickly. I'm going with the universe and the flow and seeing where it takes me," Fox told me on Thursday, talking breathily over the phone from a fitting. And then, mysteriously, "… where it takes all of us."
And who wouldn't want the universe to gift you a whole new wardrobe, as Ye did Julia? (Don't forget, he famously made over his ex Kim's closet back in 2012.) "It was every girl's dream come true," Fox wrote in a dispatch from her second date. Online, Rachel Rabbit White gushed, "Julia Fox is living her art … it's 'life as a performance' for the girls. genius."
Raised on the Upper East Side, the 31-year-old, also an artist and former dominatrix, it should be noted, has long been a friend of the tabloids — niche famous, especially compared to Ye's worldwide celebrity. (People had to publish a Fox FAQ to catch the masses up.)
Fox's very good month began a few days before the holidays, when she took to Instagram Stories to trash Peter Artemiev, her ex-husband and the father of her son, Valentino, by posting a rather unflattering photograph of him with the caption: "HAVE YOU SEEN THIS DEAD BEAT DAD? He can be found at most strip clubs, Lucien, Paul's bbg, Casablanca, the streets etc." The couple-dozen-Stories-long rant included a video of Artemiev appearing to yell at Fox; claims that he isn't paying the bills, never mind helping out with their baby and the dog; and, finally, a call to arms: "TAKE CARE OF YOUR KIDS MEN!!! AND OTHER MEN, HOLD DEAD BEAT DADS ACCOUNTABLE!"
The posts (to her over 500,000 followers) were taken as a feministish screed of a woman calling attention to the man who she felt let her down. As Marie Bardi wrote on Twitter, "Julia Fox's deadbeat baby daddy is public enemy no1 in NYC right now." Fox took it even further: In one post, she claimed Artemiev had been "fucking his aunt," encouraging online snickers about incest, though, according to sources, he obviously wasn't sleeping with his biological aunt. (In response, Artemiev told "Page Six," "I was saddened to learn of the utterly false statements made on social media by Julia Fox, my co-parent, who is clearly struggling. Out of respect for her privacy and to protect our child, I will not comment further.")
"This is my son's life we are talking about. I don't give a f- -k about my 'acting career,'" Fox responded to fans who thought she was coming off too unhinged. But the drama all seemed on-brand for her, and not unlike something straight out of the Uncut Gems playbook. Meanwhile, on her podcast, Forbidden Fruits, Fox told co-host Niki Takesh, "I've got this baby. I got a career. I don't have time for your shit … You're just not worth it, and I'm fucking old." To borrow some advice she once received, "You're better to be alone than with bad company."
And then along came Ye to keep her company. On January 2, they were spotted publicly for the first time, at a candlelit dinner in Miami. A source told "Page Six" it was "nothing serious," and Fox herself responded, "I don't know," when a paparazzo asked if they'd be seeing each other again. Then, after a day sunbathing with friends on the beach, Fox was back in New York appearing with West at Slave Play, followed by another dinner at Carbone and a retreat to West's hotel. By then, "Page Six" was reporting that the couple had made it "official," and Vogue was calling her an "all-around It girl who looks like Debi Mazar crossed with Jessica Rabbit."
Still, it's fast love. In December, West publicly asked his soon-to-be ex-wife Kim Kardashian West to "run right back to me," and in the last week of the year, he bought a home on the same street as her. Kardashian West, meanwhile, jetted off to the Bahamas with her own younger paramour, SNL star Pete Davidson (Might I recommend these photos of Davidson and Fox posing together in Paper as Barbie and Ken in 2019?) On her podcast, Fox, in an end-of-the-year recap episode, can be heard reminiscing about the end of Keeping Up With the Kardashians (she's been watching since the premiere in 2007), encouraging Khloé Kardashian to forget her own bum baby daddy ("the girl has not had a break"), and asking her co-host, "Wait can we talk about the Kim and Kanye divorce? Wait can we talk about Kim and Pete Davidson?"
Dude drama aside, Fox has made this a proper fashion moment now, it seems, under West. It's working. GQ's Rachel Tashjian obsessed over her Miami beach 'fit, a Balenciaga one-piece that read "MIAMI" worn under leather pants, which Tashjian called "the coolest thing anyone has done in a long time." After her New York outing with West, Vogue drooled over her "two head-turning looks in one night": a Sies Marjan coat and even more Balenciaga (a Kim K. designer of choice), with, later in the evening for dinner, an exposed thong hugging her hips. ("Brace yourself — because the G-string trouser trend is back," declared the Daily Mail in response.) Fox, the master of her own tabloid game, got in on the action, posting a pap shot from the beach that would look more at home in the pages of Sports Illustrated, captioned, "Thnx for the photo! @pagesix."
By stepping in public with Kanye West, Fox is enacting the ultimate revenge fantasy of all women stuck at home with their squalling babies while the men do whatever they want — which doesn't mean she doesn't have her regrets. "I really just kind of want to clear the air. Because I obviously was not expecting all the publicity to come after I had come for my son's father online," she told me. "My son's father and I had our issues and I wanted to scare him into being a better dad, but I went about it the wrong way. My son's dad loves his son more than anything in the world. He just has some issues that I shouldn't have made public."
Asked to respond to Fox's busy week, Cat Marnell, who's been friends with the actress since Fox was a teenager, texted me, "Julia Fox is doper than Pete Davidson, Kim Kardashian, and Kanye West combined. She's a legitimate sorceress. She's the Michael Jordan of vixens … She's devastating, like a hurricane." And then she kept going. "If she became a legit 'Minivan majority'-known household name, as is happening right now … it will be the greatest thing to ever happen in my lifetime. I fucking love that bad bitch. Julia Fox is a Camille Paglia wet dream." Fox herself texted me, "The overall message is that if ur in a toxic relationship, get out of it cuz u never who know or what could be waiting on the other side <3."