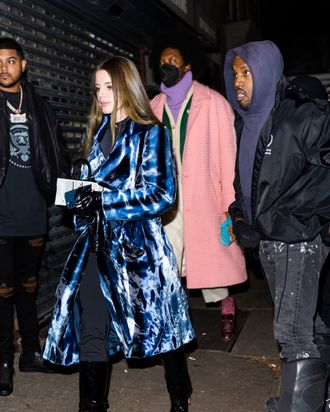 You might think that putting your second date on the cover of a magazine means that a relationship is more parts publicity than genuine affection, but according to Julia Fox, you'd be wrong. Just a few weeks into her whirlwind romance with Ye, f.k.a. Kanye West, Julia Fox is insisting that their relationship is totally real and very much not a publicity stunt.
"There's always people that think every single celebrity scandal is a setup. I personally don't," Fox said on her Forbidden Fruits podcast Thursday, January 13. That said, despite frequent paparazzi snaps and elaborate date nights (see the aforementioned magazine cover soirée), things between Ye and Fox might not be as serious as they appear. "Listen, for right now, I'm just living in the moment and I don't have any expectations — there's no labels, none of that. It's just people that make each other feel better."
Am I surprised that Kanye, a man who just a month ago was publicly begging his estranged wife Kim Kardashian to take him back, isn't going to put labels on his relationship with Fox? No, I am not.
After establishing that she and Ye were definitely, absolutely not, a "PR stunt," Fox commented on some of the wild theories online, specifically those about her 2019 Paper magazine photoshoot with Pete Davidson, who is now Kardashian's rumored boyfriend. "It is funny to see where people go with their conspiracy theories," she said, calling the connection "meta." Even her documented love of Keeping Up with the Kardashians plays a part. "We were all connected even prior, you know what I mean? We're all artists."
Sounds like Fox is ready for a double date with Kim and Pete, should the opportunity arise. Though something tells me the only way that will happen is if Pete agrees to let Ye style him, and I don't know if I'm ready to see Kim, Pete, Ye, and Julia walk out of Carbone dressed like they're coming out of the Matrix.