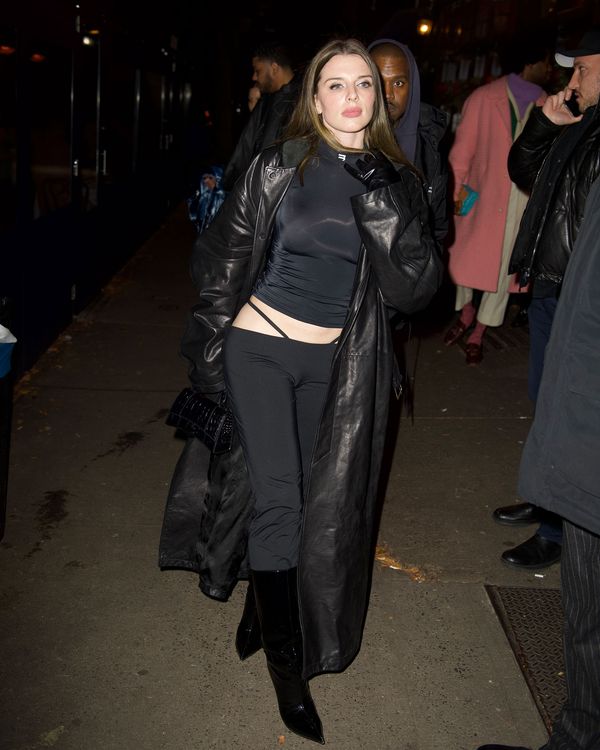 If you thought the Y2K trend was a thing of the past (again), then I'm sorry, but I have some bad news for you. Julia Fox is single-handedly carrying the low-rise resurgence with her into the New Year. On her hips. And she's making it look pretty darn good, too.
On Tuesday night, the actress and model was spotted out and about with Kanye West at Carbone in New York City wearing a pair of low-rise pants with a thong style waist, exposing a small sliver of her midriff to the cold (and the paparazzi). This was just days after she was seen wearing low-rise leather pants on the beach (!?) in Miami.
Being the "thoroughbred New York biotch" that she is (her words), Fox was dressed in head-to-toe black on both occasions, plus, on Tuesday night, a lot of Balenciaga. (Ye was spotted on a shopping spree at the Miami Balenciaga store last week and famously turned Kim Kardashian on to the brand.) But the Cut has confirmed that Fox's pants were NOT designed by Demna and are instead these by Miaou.
Because Fox was wearing a long leather coat last night, we can't tell if these thong pants exposed any cool lower-back tattoos. But we can say with certainty that if Julia Fox is wearing low-rise bottoms — and while on a date with Kanye West, no less — then the trend is here to stay. And that 2022 is going to be an incredible year for pants. Buckle up!