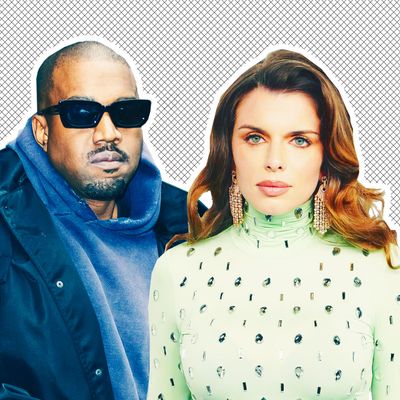 Photo-Illustration: The Cut; Photos: Getty Images
The knowledge that Julia Fox and Kanye West are dating has become inescapable. They are seemingly everywhere right now, but mostly at Carbone. In fact, Fox recently wrote about her "instant connection" with Ye in Interview Magazine, giving us a two-paragraph glimpse into this budding … romance? I will allow you to assess the evidence for yourself.
Yes, that is a photo of Fox atop Ye from their second date. Why the rack of clothing in the back? I'm so glad you asked. Before we get there, let's start at the beginning. "I met Ye in Miami on New Year's Eve and it was an instant connection," Fox wrote in her Interview piece. "His energy is so fun to be around. He had me and my friends laughing, dancing, and smiling all night." Apropos of everything, I would seriously consider buying a Yeezy hoodie emblazoned with the words "laughing dancing smiling." Fox says they "decided to keep the energy going" and flew to New York to see Slave Play. Fox was impressed by the fact that Ye was "ON TIME."
During an obligatory dinner at Carbone, Ye apparently "directed" an impromptu photo shoot for Fox. "The whole restaurant loved it and cheered us on while it was happening," she said. I imagine it sounded something like, Yay! Go, Julia! We love to see you laughing, dancing, and smiling! Afterward, Ye surprised her with a hotel suite full of clothes. "Like, who does things like this on a second date? Or any date!" she wrote. These clothes included the low-rise leather pants with the thong-style waist that makes me nostalgic for Degrassi. There was also a pair of what appear to be jeggings that go over the foot? Like jegging footie pajamas? Fox continued, "Everything with us has been so organic." Yes, very organic. Just like seamless brand integration.
Ye is nothing if not a businessman. So it's hard not to smell the strong notes of brand promo permeating through this photo shoot, which was published alongside Fox's second-date recap in Interview. The timing also feels somewhat calculated, given that his collaboration with Gap and Balenciaga, aptly called Yeezy Gap Engineered by Balenciaga, was announced today. Also, Kim Kardashian West and Pete Davidson have been omnipresent since they held hands on a roller coaster on Halloween. Maybe this is just what trying to make your ex jealous looks like when you're among the most famous people in the world.
Regardless, I look forward to more photographic evidence of Fox and Ye laughing, dancing, and smiling in the future.