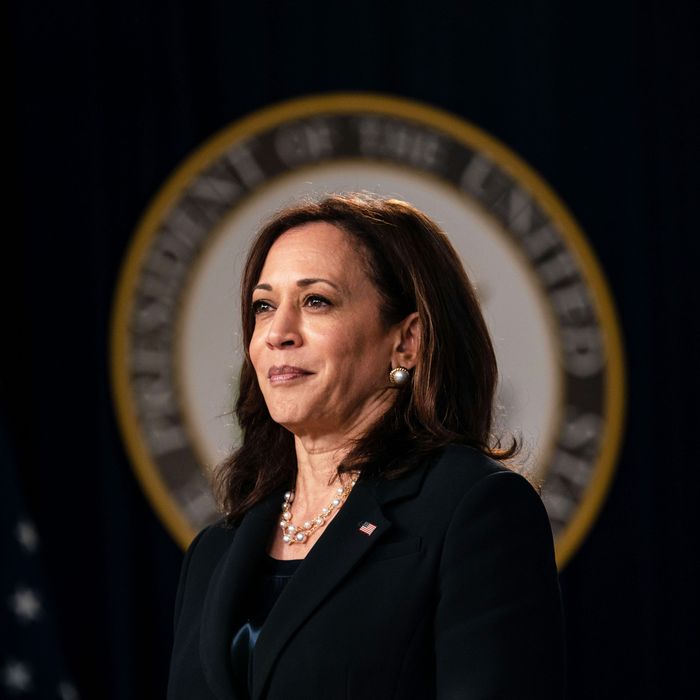 Vice-President Kamala Harris.
Photo: Kent Nishimura/Los Angeles Times via Getty Imag
As we plod into our third calendar year of the coronavirus pandemic and the United States continues to shatter global infection records despite the knowledge and scientific advancements ostensibly accrued in that time, it would be fair if you had questions for the government. Questions like: Would it, at this point, be reasonable to accept that the personal responsibility strategy isn't keeping COVID-19 at bay? Is it going to be like this forever with new variants cropping up every couple of months to trounce our best defenses and drive new spikes in hospitalization rates? Is there a target delivery date for all those at-home antigen tests we were promised — do we have an ETA on those?
Well let me just say: Very understandable if you are wondering any or all of these things! Vice-President Kamala Harris will take just a moment to try to address some of those items for you right here right now.
In an interview with Craig Melvin on the Today show, Harris was not prepared to say definitively whether we should be wearing N95 or KN95 masks instead of cloth, nor what the correct response might be to people who simply refuse to wear masks or get vaccinated, but she did deliver one illuminating gem about the nature of time. Melvin called attention to recent pleas from high-profile medical professionals urging the Biden administration to take both a longer view of the pandemic, rather than tackling it crisis by crisis, and a firmer stance on vaccine requirements. Is it time to change course? he asked. And, um:
It is time for us to do what we have been doing, and that time is every day. Every day, it is time for us to agree that there are things and tools that are available to us to slow this thing down.
I love this answer and have listened to it like eight times already, though I cannot tell you what it means; the flashes of Cousin Greg testifying before Congress are too strong. Time happens every day, so every day is always now, when we are doing what we are doing? Sure!
To be fair, Harris did go on to say that the millions of eligible people who haven't gotten vaccinated should go ahead and do that because it "will save their lives," which, yeah, that would really help. Realistically, though, doing "what we have been doing" probably means that obstinate faction (about 25 percent of the U.S. adult population) will continue to eschew the shot, but Harris does not "believe in giving up on people, Craig." You know what she does believe? That those 500 million rapid tests the government is supposedly sending us should ship "shortly," maybe "by next week, but soon. Absolutely soon." I hope this has been helpful!