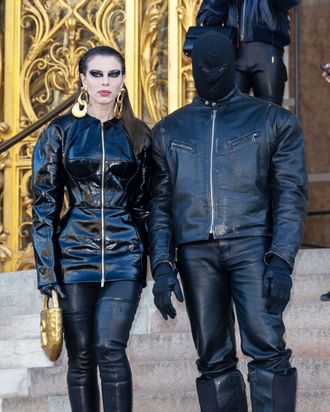 Photo: Marc Piasecki/GC Images
It's been almost a month since Kanye West and Julia Fox started publicly dating and making headlines with their looks, specifically Julia's new wardrobe. This weekend, there were no Carbone dates or low-rise pants in sight; instead, the couple has been making several appearances at Paris Fashion Week, and it's been entertaining, to say the least.
Kanye (obviously) has a heavy hand in dressing the pair in coordinating looks for their front-row dates. See all their looks so far from the week.
Denim Duo
For their red-carpet debut while attending the Kenzo show, the pair wore matching denim outfits. Julia wore a Schiaparelli denim jacket, Carhartt jeans, and her Diesel joots. Ye coordinated with her in a full denim Balenciaga look and Red Wing black boots. But the most compelling thing about her look wasn't her joots or cropped jacket; it was her excessively bold black eyeliner and shadow creating an extra-thick circumference around her eyes. It's the makeup that has become her go-to for the week. Kanye, however, is donning colored contacts when his eyes aren't masked with shades or a ski mask.
Lots of Leather
What's a Paris trip without a dinner date? Ye and Julia stepped out for date night in loads of leather. Julia wore a one-shoulder red leather Rick Owens dress with thigh-high metallic Balenciaga boots. You might remember these boots from Kim Kardashian West's closet; she wore them in 2016, and they were even a favorite for North West, who posed in them for Instagram. Julia's look was completed with a Rick Owens leather jacket, and to complement her was Ye in a leather moto jacket, leather pants, and once again, his go-to boots.
… More Leather
Today, the couple is back in more leather for Schiaparelli's presentation, and the eyeliner is back, too. Julia is in another signature cone-bra Schiaparelli look. This time, it's a mini leather dress paired with yet another pair of thigh-high boots by Schiaparelli. The boots feature glossy toe-shaped accents showing off her little leather toes. Her look is completed with another pair of bold gold earrings and a matching bag. Ye was in the same outfit from date night, except today he's masked up in a black ski mask with tiny little slits for his eyes.