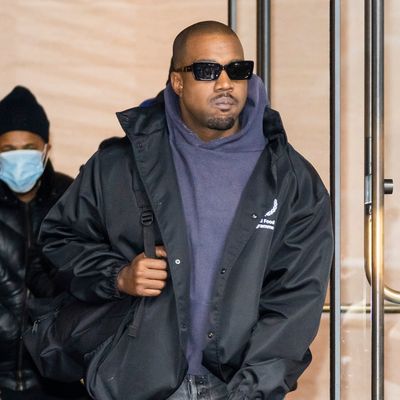 After releasing a new single calling out Pete Davidson and appearing in another article in Interview magazine alongside his new something Julia Fox (they're not doing labels right now), Ye, formerly known as Kanye West, decided to publicly accuse his estranged wife, Kim Kardashian, of keeping him from their children — on Chicago West's fourth birthday.
Now, if that sounds like a lot, that's because it is. So, to help you keep track, here's a breakdown of all the Kimye drama that went down this weekend and everything Ye said about it.
Friday, January 14: Kanye claimed he wasn't allowed in Kim's home because Pete Davidson was there.
Ye's odyssey of a weekend began Friday, when Ye decided to give a tell-all interview with Hollywood Unlocked in which he complained about his current co-parenting agreement (or lack thereof) with Kim Kardashian. In the interview, Ye said that he was being kept from entering the home he once shared with Kim and their children, claiming that he had attempted to pick up his kids to take them to school earlier in the week, but "security stopped me at the gate" and "security was between me and my children." It's unclear what exactly happened, as Ye did say that he was allowed to take the children to school and drop them back off. However, according to the rapper, security kept him from entering the home upon pick up and drop off — a restriction he claimed "had not been defined."
In his interview, Ye also suggested that he was kept from entering Kardashian's home because her current rumored boyfriend, Pete Davidson, was inside. "And I am hearing that the new boyfriend is actually in the house that I can't even go to," he claimed. However, sources close to the Kardashians have claimed that Davidson has never been to Kim's home and has not met any of her four children. "Kim has set boundaries. It's her house. Kanye can't just come over unannounced and that's what happened," a source told E! News on Saturday in response to his claims. "He did come over and security didn't let him in."
Saturday, January 15: Ye calls out Pete Davidson in new track "Eazy."
Ye also mentioned Pete Davidson in his Hollywood Unlocked interview, saying, "How you gonna bring me to SNL and kiss the dude you dating right in front of me, and everybody's like, 'Aw, that's cool,'" he said, according to Entertainment Tonight. He seemed to be referencing the Aladdin sketch with Kim and Pete, which, for the record, was filmed before they reportedly started their romantic relationship. Ye also called out Davidson in his new single, "Eazy," which leaked online Friday, rapping, "God saved me from the crash / Just so I could beat Pete Davidson's ass."
This, of course, comes on the heels of his second Interview magazine photoshoot with Julia Fox, which featured plenty of photos of them together, including one particularly chilling pic of him sitting down at a table with a knife and fork, as Fox sprawled out on the table in front of him. Let's leave the cannibal thing in 2021, shall we?
Saturday, January 15: Ye claimed he wasn't invited to Chicago's birthday party, but he did attend.
On Saturday, January 15, Ye released a series of videos claiming that Kardashian hadn't given him the address to their daughter's birthday party. "I wasn't allowed to know where her party was," he claimed in a video, in which he appeared to be driving to an undisclosed location, shared by Hollywood Unlocked. He went on to say that he was "taking control of my narrative," claiming that he had "called Kim, texted nannies" and even called Tristan Thompson, but "won't nobody give me the address to my daughter's birthday party and that's going to imprint in her mind that I wasn't there for her." He also claimed that he was supposed to be recording his new album in Miami, but had changed his travel plans to be with his daughter on her birthday.
Soon after the video began circulating online, however, photos and videos emerged of Ye clearly at Chicago's birthday party. The rapper later took to social media, presumably as he drove home from the party, to update his fans. "I'm so happy right now, I just came from Chi's party," Ye said, adding that Travis Scott, Kylie Jenner's partner who was also celebrating his daughter Stormi's birthday at the party, sent him the address. "Kylie let me in, because the security stopped me again," he claimed. Despite the security snafu, Ye seemed happy with the afternoon, saying, "It's just a matter of having a conversation, open dialogue, and everyone just had a great time." He added, "Let me calmly and legally take control of my narrative."
Sunday, January 16: Sources push back on Ye's Claims
Ye's narrative about Pete and Chicago's birthday has continued to come under question. Sources close to Kim Kardashian reportedly told "Page Six" that the plan had always been for Chicago to spend the afternoon with Kim at a joint party with Stormi before going to a party with her dad. "He was always having his own party for Chicago," the source claimed. "So it's frustrating he crashed Kim's party and created this narrative that he wasn't invited."
Whoever these sources are, they're not taking too kindly to Ye's public accusations. Another source reportedly claimed that Ye's public call for support at allegedly not being invited to his daughter's party was puzzling to insiders after he "didn't send Christmas gifts or show up on Christmas Day." Yikes.
As things get heated in the press, it might be worth it for Ye to remember a few things. First, there's nothing wrong with either Kim or Ye flaunting their new relationships in the press. They're both single adults. And second, before Ye calls Kim out for kissing Davidson in an SNL sketch that was reportedly taped before they were even dating, he might want to make sure his relationship isn't the subject of a large magazine feature. Just a thought.