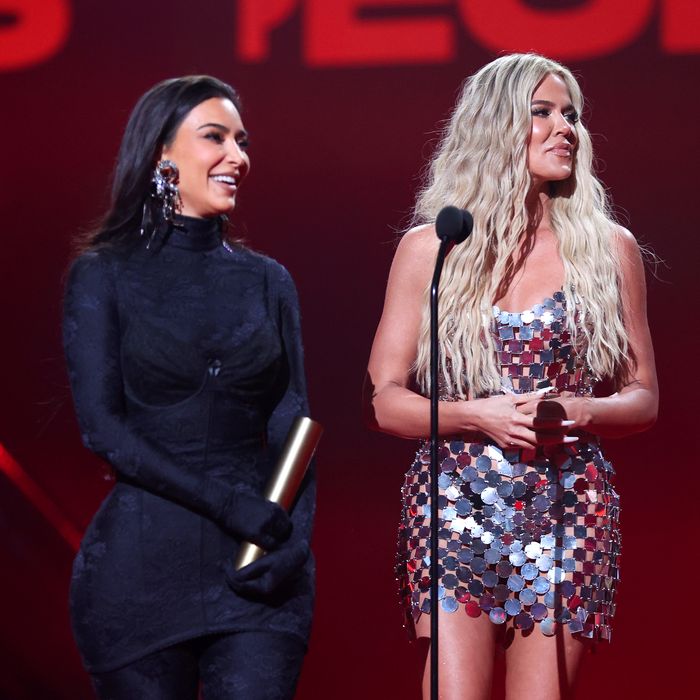 Photo: Christopher Polk/E! Entertainment/NBCUniversal/NBCU Photo Bank via
First it was Kris Jenner and Flavor Flav, then it was Scott Disick, then it was Jeff Bezos, and now it's Khloé Kardashian's turn to third-wheel on a Kim Kardashian and Pete Davidson date night. If you know the Kardashians, then you know that when they start bringing family along on dates, it's serious, and Khloé is an especially tough one to win over. (Who could forget her dislike of Kris Humphries?)
So, what does Kim K do to make sure her sister and new (not-yet-confirmed) boyfriend get along? She locks them in a room, of course. Kim, Khloé, and Pete were reportedly spotted enjoying a night out on Wednesday, January 26 that included a Korean BBQ dinner and an escape-room experience. It's definitely more low-key than their previous night out, during which they attended a dinner party at Jeff Bezos's home.
Kim and Pete sighting aside, the group hang was also hopefully a good time for Khloé to have fun and get a break from the near-constant Tristan Thompson tabloid stories. Khloé and Thompson have one daughter together and have reportedly been on and off for years. Recently, they've been on — until reports emerged that not only had Thompson been cheating on Khloé, he had fathered another child. On Wednesday, before Khloé, Kim, and Pete went to the escape room, video emerged of him flirting with yet another woman at a bar. She posted a series of glamorous photos on Thursday in what some consider to be a response to Thompson. "Betrayal rarely comes from your enemies," she wrote.
Makes you wonder what kind of vague tweet she'll put out if Pete and Kim ever break up. Or get out of that escape room.