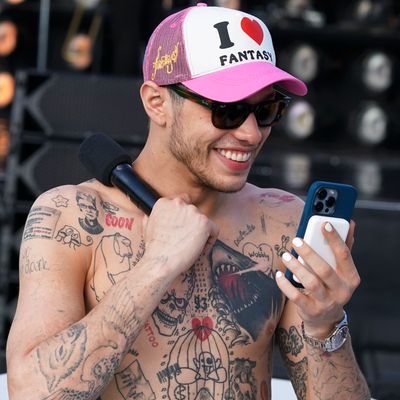 Photo: Jeff Daly/NBC/NBCU Photo Bank via Getty Images
Pete Davidson and Kim Kardashian may have just returned home from a glamorous vacation in the Bahamas, but they're already back to their low-key dates. Following Kardashian's trek to Staten Island and Pete's journey to the Beverly Hills Hotel, the two have found a new spot: Rite Aid.
On Tuesday, January 11, Kim and Pete were photographed holding hands, grabbing pizza at Jon & Vinny's, a local L.A. spot, and then going for ice cream at Rite Aid. The drugstore. The one you go to in the middle of the night when you've run out of tampons or Advil. The one with lighting so bad it would be unsuitable for a selfie, let alone a date. And yet, Kim, a millionaire, and Pete, BDE influencer, went there on a date. It's a weird choice, for sure, but compared to Kim's ex Kanye West, who apparently bought Julia Fox a brand-new wardrobe on a second date that doubled as a photo shoot, this Rite Aid ice-cream run is positively quaint. So, it's official: Ice cream at Rite Aid's is now the height of modern romance.
Kardashian and Davidson have yet to confirm their romance. So far, they've been photographed grabbing dinner or lunch together in various locations, and they reportedly traveled to the Bahamas together, but other than various reports and some pretty PG-rated PDA, there hasn't been much evidence that the two of them are actually dating. Even this pizza and ice-cream date seems a little suspect.
TMZ is calling photos of Kim and Pete embracing in front of the glass doors of the drugstore and holding hands in the parking lot "a clear sign their relationship is getting more comfortable and more intense." But is it? Or is it a sign that they both love Thrifty's ice cream at Rite Aid? If there's anything I know about celebrity couples — especially when the Kradashians are involved — it's that nothing is official unless it's on the Gram. Your move Kim K.