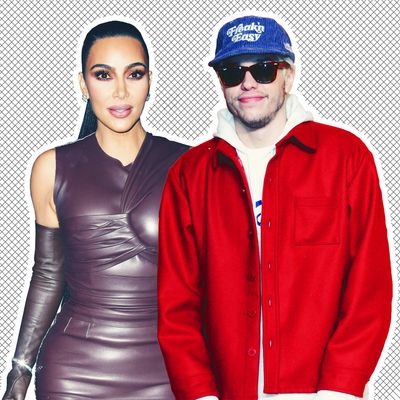 Two of the only people enjoying life right now.
Photo-Illustration: The Cut. Photos: Getty Images
It is 2022 anno Davidson, and Kim Kardashian West is starting her year off with a trip to the Bahamas. On Monday, according to the Daily Mail, she and Pete Davidson boarded a private plane to take a postholiday vacation together in the Caribbean. Everyone is catching COVID-19, quitting their jobs, or trying not to freeze, and the two of them are on a romantic beach getaway. I am so jealous I could puke.
If you'd like photographic evidence of Pete and Kim going off to enjoy the kind of bliss only money can buy, the Daily Mail has it. Kind of. The tabloid published a handful of what have to be the blurriest paparazzi photos a modern-day camera can create. On the plus side, if you squint, you can pretend you're one of the other pixelated people boarding the plane.
Now, if I may address Kim and Pete directly: Hello! Happy New Year! I have a mix between a business proposition and a humble plea … take me with you next time. I, too, crave a vacation from my vacation. Haha! This is the kind of lighthearted banter you can expect from me, your collective plus-one. Let me quit my silly job where I tippy-tap on the keyboard, and bring me to the Bahamas. I can get you coffee. I can hold your bags. I could be but a sentient coatrack on your vacation. Looking forward to your thoughts!
Meanwhile, Kim's ex Ye is reportedly dating actress Julia Fox now. An unnamed source told "Page Six" the two are "kind of kindred spirits" and their relationship is "cool to watch." Hmmm, I bet it would it be even cooler to watch were I in the Bahamas with Kim and Pete.