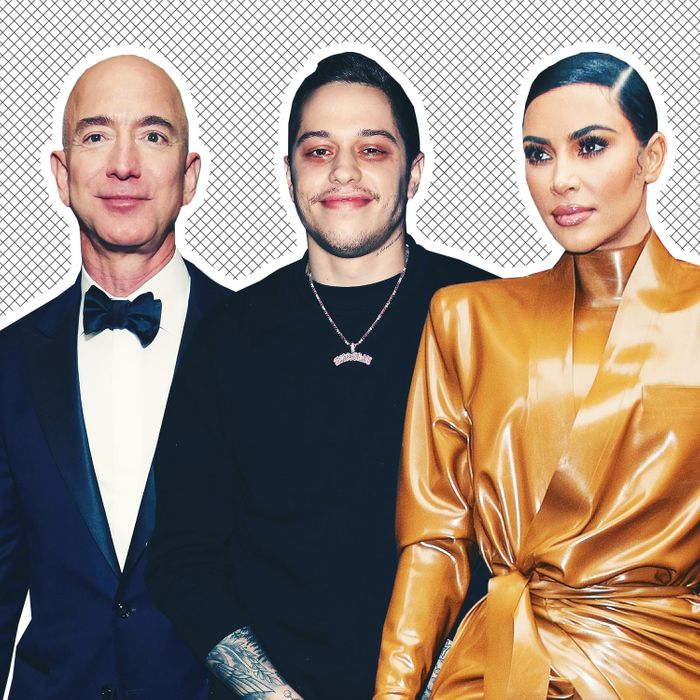 Leave them alone, Jeff!
Photo-Illustration: The Cut; Photos: Getty Images, Shutterstock
Kim Kardashian West and Pete Davidson's date nights really do keep getting more and more bizarre. Tuesday night, the pair was seen arriving at the Los Angeles estate of Papa Amazon himself, Jeff Bezos. You hate to see it!
Per TMZ, the two were there for a dinner party, though it's unclear who else was in attendance. Perhaps Bezos's best friend and drinking buddy, the Rock? Or maybe his nemesis, Leonardo DiCaprio? It's impossible to say! Jeff Bezos has so many secret friends. Kim and Pete were reportedly at Bezos's house for "hours." How many hours? Who knows! What could these three possibly discuss for more than 60 minutes? NFTs? The Super Bowl? God forbid, Jeff Bezos hosting SNL?
This concludes all the details known about this threesome's little dinner date. Even still, the mental image of Kim Kardashian West and Pete Davidson sitting at Jeff Bezos's dining-room table will keep me awake for the next several days.
It's been a busy week for Kim. The day before, she was seen meeting with Hillary and Chelsea Clinton. Yet another unexpected trio! It's assumed they were talking about the Clintons' upcoming Apple TV+ series Gutsy Women. I would like to imagine they talked about Pete's tattoo of Hillary.
Meanwhile, Kim's exes are having busy weeks themselves. Ray J met with Donald Trump to talk about … business, I guess? I desire no information on that encounter. Then, of course, there is Ye. He's been doing Julia Fox's makeup, releasing a Pete Davidson diss track, and making claims that he retrieved Ray J's laptop a few months ago to prevent the leak of an alleged second sex tape with Kim. (Kim has denied the existence of a second tape.)
Well. That's enough Kardashian-adjacent news for today.