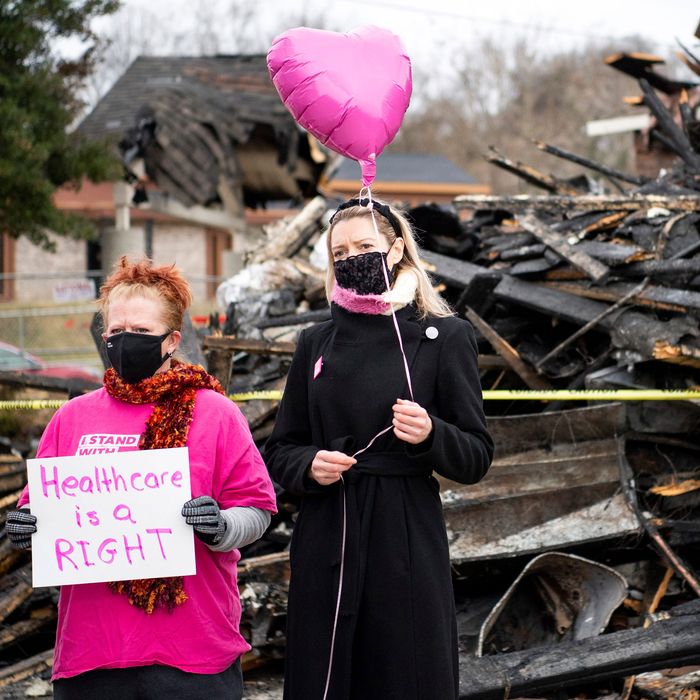 The recently destroyed Planned Parenthood facility in Knoxville.
Photo: Brianna Paciorka/The Knoxville News-Sentinel
On New Year's Eve, a fire engulfed a Tennessee Planned Parenthood, flames reportedly rocketing through the building's roof and consuming the entire structure. Nine firefighting units and 30 firefighters eventually extinguished the blaze, but the center was destroyed in an incident that has now been ruled — I'm sure you will be so surprised to hear this — arson.
"Knoxville Fire Department investigators, along with assistance from the Bureau of Alcohol, Tobacco, Firearms, and Explosives (ATF), have conducted a thorough scene investigation of the December 31st 710 N. Cherry Street - Planned Parenthood fire and determined the fire to have been purposely set by an individual or individuals who, at this time, remain unidentified," the fire department said in a statement, according to CNN.
Because the facility closed for renovations in early December, no one was in the building when the fire was set, and no injuries were reported. Still, the construction project was projected to cost $2.2 million. In a statement, Ashley Coffield — president and CEO of Planned Parenthood of Tennessee and North Mississippi — said the organization intended to rebuild, though doing so would take time. "Our priority is to establish a safe operating site and reconvene services for our patients as soon as we possibly can," she said. "We are committed to our patients in East Tennessee and will not let this attack take away the essential health-care services on which they rely."
Violent attacks on this particular clinic (which provides abortions along with a suite of other health services) bookended 2021. In January of last year, a gunman shot out the clinic's reception area before it opened, shattering its front door. No one was hurt that time, either, but the trend remains deeply troubling.
Assaults on abortion clinics have escalated over the past four decades and spiked in recent years in tandem with a rise in aggressively restrictive legislation. While purporting to protect human life, anti-abortion activists have firebombed clinics, opened fire on facilities, and murdered providers — this in addition to more commonplace intimidation tactics like vandalism, doxing, and the everyday harassment of patients and staff. In 2020, the National Abortion Federation recorded an increase across nearly every category of threat it tracks — hoax devices and suspicious packages, arson; assault and battery; threats of death and harm; stalking; attempted arson and bombing; vandalism; hate email and internet harassment; hate mail and harassing calls — compared to 2019. The uptick in anti-abortion violence is the natural result of legislation that emboldens extremists to police the health-care choices of strangers and increasingly favors an ideological fringe. So while the arson ruling in Knoxville may not feel surprising, it definitely feels ominous in light of what's ahead.