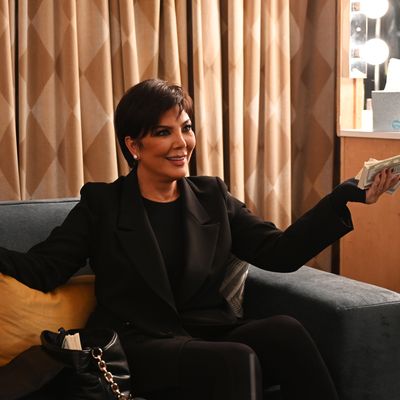 Photo: Will Pippin/NBC/NBCU Photo Bank via Getty Images
Stormi Webster is only 3 years old, but she's already being taught the art of the dodge by the queen herself, Kris Jenner. Kylie Jenner's daughter got a crash course in misdirection on New Year's Eve when Kris Jenner appeared on CNN's live New Year's Eve coverage with Anderson Cooper and Andy Cohen.
After chatting about her "Jingle Bells" cover and Kim Kardashian West's baby-bar success, Cohen got down to the real gossip: Kardashian West and Pete Davidson's and rumored romance. "You know, everyone's been talking about Kim's new relationship with Pete Davidson. Have you had the chance to spend time with them? How are they as a couple?" he asked. And that's when it happened. Just as Superman flies in to stop a supervillain from blowing up Metropolis, Stormi ran out from one of the doorways behind Jenner in a matching pajama set and immediately climbed onto her lap, giving her the perfect excuse to brush off Cohen's question. "That's little Stormi," Jenner said laughing as Andy and Anderson waved hello. "Nice distraction! Nice timing, Stormi, perfect. Right on cue!" And just like that, the interview was over! Nice timing, indeed.
I've got to say, I'm impressed with Stormi's ability to sense when her grandmother might need help to avoid talking about one of her aunts' private lives. Based on the clip, it definitely looked as though Jenner seemed prepared to answer Cohen's question, so I'm going to go out on a limb and say this moment was 100 percent unscripted, unlike the Kardashians' various television shows. I know Christmas is over, but I'd say Stormi earned herself an extra pair of cozy Skims from Kim.
It's unclear if Kardashian West was with Jenner and Stormi, at home with her kids, or in Miami, where Davidson was performing a cover of "Miami" with Miley Cyrus for NBC's Miley's New Year's Eve Party. Thanks to Jenner and Stormi, though, she was able to do it in peace … But, seriously, Kris, we know you hung out with Pete and Kim. What are they like as a couple?