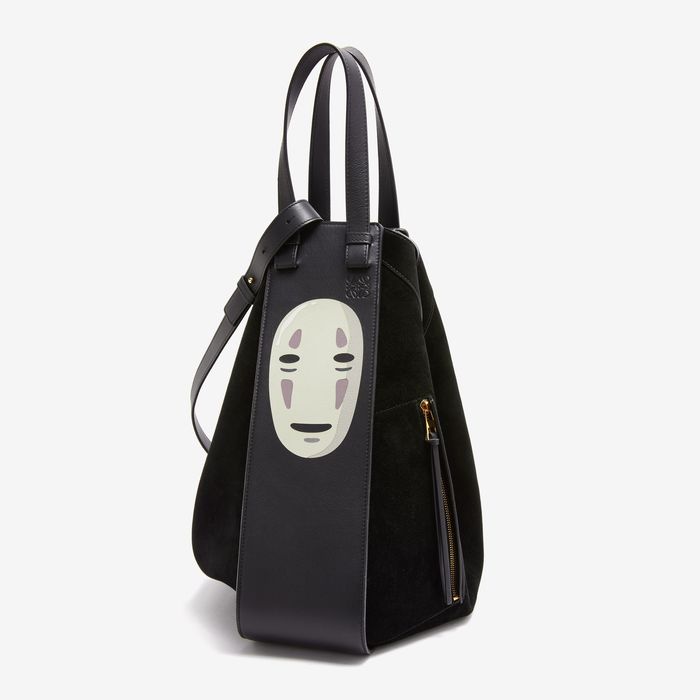 This week, the luxury fashion brand Loewe revealed its second collaboration with Studio Ghibli, the Japanese animation house co-founded by director Hayao Miyazaki in 1985. This time, they created a capsule collection of ready-to-wear and accessories around one of the studio's most beloved and famous films, Spirited Away, which came out in 2001 and won an Oscar for Best Animated Feature.
I don't know about you, but when I first saw Spirited Away as a kid, it scared the crap out of me, but I couldn't look away. Like all of Studio Ghibli's films, it's a stunning, magical ride — one that involves spooky yet lovable spirits, twin witches, and parents who are cursed and turned into pigs. One of the characters that scared me the most was Kaonashi, or No-Face, the "stink spirit" of a polluted river who doesn't speak and angrily swallows everything in his path. Chihiro, the main character, isn't afraid of him, though, and eventually helps him out, ridding him of the human trash he has accumulated over time. Now, you can buy Loewe T-shirts, sweaters, bucket hats, and handbags with No-Face's face on them, making him even less scary and more approachable. Just don't ever toss them in a river.
Fans of both the film and Loewe cleaned out much of the Spirited Away collection, including the above No-Face bag, when it went live on the brand's website today. But below is a selection of some of our favorite pieces in case you're able to snag one in this realm, or the next.