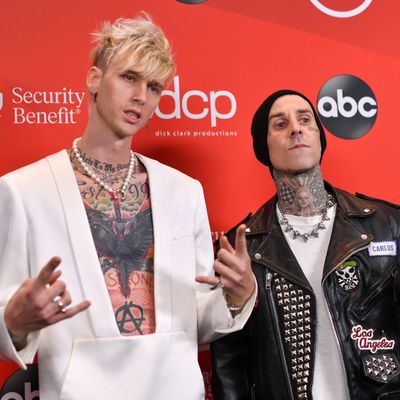 Photo: Emma McIntyre /AMA2020/Getty Images for dcp
I have always lived life according to a series of principles. Among them: Friends don't let friends get dumb tattoos. Well, apparently I was wrong about that one, at least if Machine Gun Kelly and Travis Barker are anything to go by. For them, dumb tattoos are more of an occupational hazard of their actual friendship and collaboration, not, as I had always suspected, a betrayal that would literally haunt you for the rest of your life.
Let's start at the beginning. Six months ago, Machine Gun Kelly and Travis Barker got matching tattoos that read "born with horns," which was going to be the name of MGK's new album. But on Monday, MGK posted a video of him breaking the tragic news that he had decided to go with something different. "Okay, we're friends no matter what, right?" MGK prefaced the news. But he shouldn't have worried. It turns out, Barker was more amused than anything, immediately breaking into laughter. I guess the fact that MGK also has matching ink softened the blow?
For guys covered in tattoos — Barker just posted a video of himself getting some detailing on his kneecap skull tattoo — I guess having an extra probably isn't that big of a deal. And as MGK clarified on Twitter, "Born With Horns" is "still the name of the first song on the album," so it hasn't lost all meaning. But if I were Barker, I probably wouldn't jump at the chance to tattoo the album's new title, Mainstream Sellout, until it's actually in stores.
I just hope that, for their sake, they didn't convince Kourtney Kardashian and Megan Fox to join in on the tattoo session that day. Barker and MGK may have been "born with horns," but their fiancées are not to be messed with.