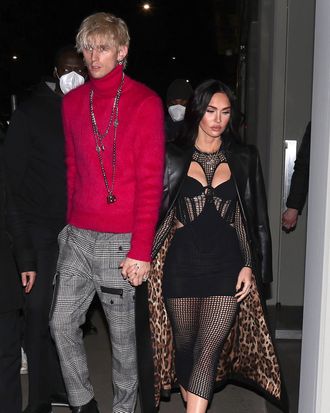 Photo: Robino Salvatore/GC Images
What started as a sparkly Foot Locker employee getting down on bended knee to propose to Megan Fox is quickly becoming a great mystery of our times. In a new interview, Machine Gun Kelly has described his surprisingly low-key proposal, including how he filmed it on his phone. But here's the thing: His story doesn't add up.
Machine Gun Kelly, also known as Colson Baker, proposed to Megan Fox in front of a banyan tree at — one must assume — some fancy, romantic hotel on Tuesday, January 11, and the couple announced the news the next day with two separate posts on Instagram. Megan posted a video of the actual proposal, while MGK posted a close up of the intricate ring he designed with jeweler Stephen Webster. As with every milestone in their relationship, it went viral.
"We released it to control the narrative. As opposed to someone just catching a weird cell phone picture of a ring on our hand and being like, whoa!," the musician told Vogue of their mutual decision to take their engagement public. When asked if they were surprised by the social-media frenzy that followed, Fox insisted she had no idea it was coming, while Baker made it clear they didn't release the footage for clout. "I didn't expect it. I just recorded it on my cell phone. And it wasn't like we had photographers or anything. It was just like me setting my phone against the cup."
If you've seen the video — and, let's face it, who hasn't? — then you know that this statement absolutely does not track for one very simple reason: There are multiple angles in the proposal video: three, to be exact.
For the record, I totally believe that MGK did not have a ton of professional photographers or videographers recording the intimate moment. The sound on the video is … not great. You can't even hear what they're saying to each other over the chirping of the birds. And I also believe that one of the angles could actually be from MGK's phone-and-cup setup. (There's definitely one angle where the quality of the video definitely looks more like the quality on my iPhone 8 than like that on a professional camera.) But there is no way that Baker only filmed this proposal on his phone without any backup.
Unless MGK has a magical cup that could walk his phone around to get other angles of the special moment, it's simply impossible. I know that Baker and Fox are vampires, but this is next-level wizardry, and I will not be fooled! There's something strange going on here, and I will not rest until I find out what it is.