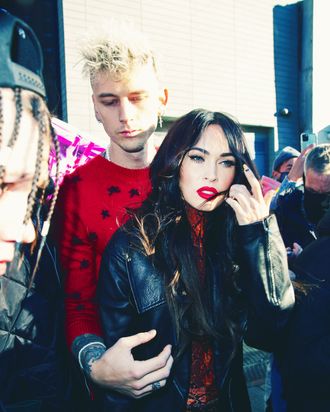 Of course it does.
Photo: Gotham/GC Images
Machine Gun Kelly and Megan Fox aren't like other couples (except Travis Barker and Kourtney Kardashian); they're an edgy pop-goth couple with edgy pop-goth tastes. Exhibit A: Their engagement, which saw MGK, dressed like a glamorous Foot Locker employee, get down on one knee to present Fox, dressed like vacation Morticia Addams, with a large and sparkly ring that … bites. The singer, whose legal name is Colson Baker, explained the custom Stephen Webster heart design — a detail we previously overlooked — in an interview with Vogue. (Apologies for the oversight; we were dazzled by this man's sparkly ref shirt.) Italics mine:
Baker: It's a thoroughbred Colombian emerald, with no treatment. It was just carved into the teardrop, straight out of the mine. And the diamond was directly from Stephen. The concept is that the ring can come apart to make two rings. When it's together, it's held in place by a magnet. So you see how it snaps together? And then it forms an obscure heart. And you see this right here? The bands are actually thorns. So if she tries to take it off, it hurts …




That's very nice …




Baker: Love is pain!



Wise words, Beetlejuice. Anyway, this is but one more stunning subplot in an engagement story that has already raised lots of questions. We must remain focused. So if you are having trouble envisioning the spiky band — ridged with tiny teeth that chomp together like full dentures? — we can always lean in for a closer look:
Looks like the stones are set on stabby platinum (?) points that scrape and poke when you unclasp them. Ouch, but for a couple of vampires who simply love swapping blood, also appropriate. Have a nice time, you two!