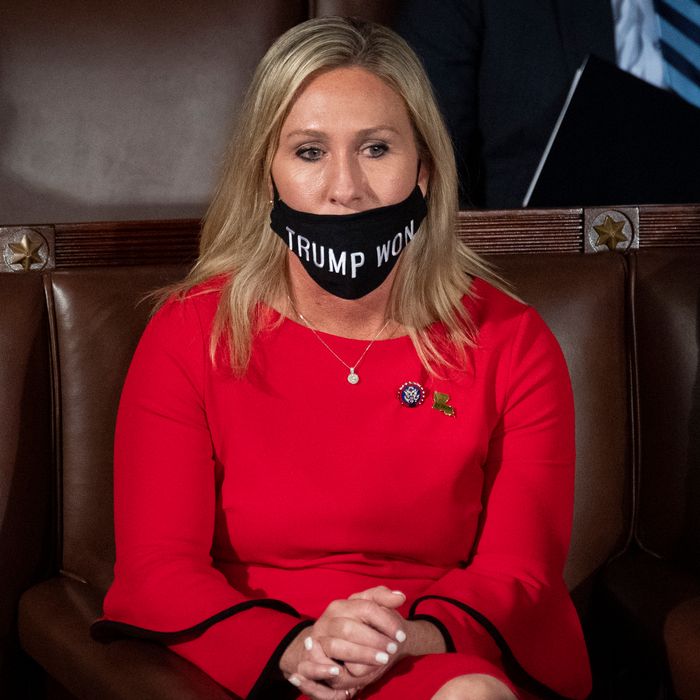 Photo: Caroline Brehman/CQ-Roll Call, Inc via Getty Imag
Pour one out for Marjorie Taylor Greene's personal Twitter account: The Georgia representative has been permanently suspended for repeatedly posting COVID-19 misinformation. How's that for a way to ring in 2022?
Greene's personal account was suspended for good Saturday after earning an impressive five strikes for violating Twitter's COVID-misinformation policy. Her last offense, as reported by the New York Times: posting about "extremely high amounts of COVID-vaccine deaths" that, coincidentally, don't exist. Previous strikes reportedly included a tweet saying that vaccines were "failing" and another tweet declaring that COVID wasn't life-threatening to people under 65 and not obese. Those previous strikes earned her various lengths of suspension, but five strikes means her account will not be restored.
Greene responded Sunday via her personal account on Telegram, an alternate platform. After opening by saying the quiet part out loud and attacking Black female politicians — "Maxine Waters can go to the streets and threaten violence on Twitter, Kamala and Ilhan can bail out Black Lives Matter terrorists on Twitter" — Greene wrote, "Twitter is an enemy to America and can't handle the truth. That's fine, I'll show America we don't need them and it's time to defeat our enemies. They can't successfully complete a Communist revolution when people tell the truth." Looks like someone is trying to win right-wing conspiracy-theorist bingo!
Her personal account may be gone, but it's not all good news. Greene's official account is still up and, according to Twitter, has not violated its COVID-misinformation policy. And despite all of this — the vaccine misinformation, the reported $80,000 fine she incurred for refusing to wear a mask on the House floor, not to mention the lies about voter fraud, racist attacks against her colleagues, and QAnon affiliation — she's still a congresswoman. Greene is up for reelection in 2022.