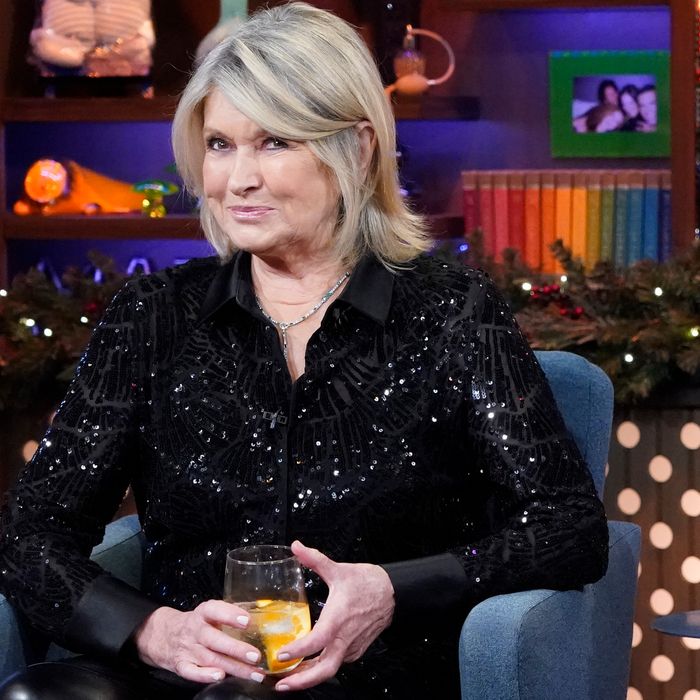 Photo: Charles Sykes/Bravo/NBCU Photo Bank via Getty Images
Today in celebrity odd couples, allow me to submit Martha Stewart and Anthony Hopkins, who apparently dated way back when. Now, I had no idea that renowned lifestyle guru Martha Stewart had ever even met Sir Anthony Hopkins, let alone dated him. It's unclear when, exactly, this romance took place, though it's likely that it was sometime in the '90s, before Hopkins married his third wife in 2003. Also unclear? How long they dated, but we do know why it ended: cannibalism.
"I have a big, scary house in Maine that's way by itself on 100 acres in the first," Stewart confessed on The Ellen Show, "and I couldn't even imagine taking Anthony Hopkins there. I couldn't — all I could think of was him eating, you know …" In case you don't know, Hopkins played Hannibal Lecter, a cannibal serial killer, in the 1991 classic The Silence of the Lambs. Sure, it's just acting, but his chilling performance was convincing enough to earn him an Oscar, so it's understandable that it might have cost him a few dates — or at least a trip to what I'm sure is an immaculate home in Maine.
This actually isn't the first time Stewart has spoken about the time a fictional cannibal ruined their potential romance. In a 2006 interview with Howard Stern, she reportedly said that she "loved" Hopkins, but after a rewatch of The Silence of the Lambs, she just couldn't go through with a romantic getaway. "Do you want someone eating your brain while you are sitting in your beautiful dining room in Maine?" she reportedly said at the time. (We get it, Martha, you have a house in Maine … but no, no I do not.) And during a 2014 appearance on The Meredith Vieira Show, she clarified that things between them hadn't been that serious, saying they "went out to dinner" a couple times, but "all I could think about was Hannibal Lecter."
I get that Hopkins isn't actually a serial killer, but I'm with Martha on this one. I'm not trying to date someone giving off people-eating vibes. No thank you.