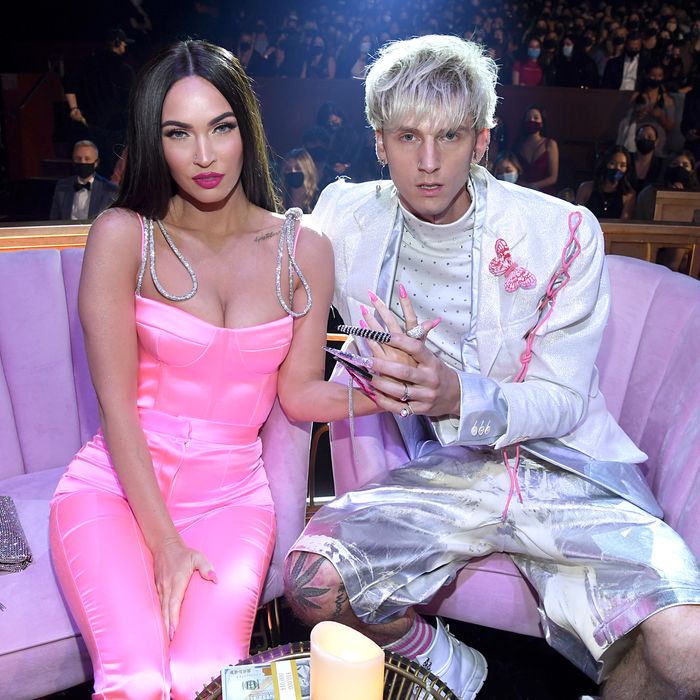 Photo: Kevin Mazur/Getty Images for iHeartMedia
I guess the time Machine Gun Kelly accidentally stabbed himself in the hand trying to impress Megan Fox was worth it after all because these twin flames just got engaged. The sometimes cringe, but always intense couple announced the news on their separate Instagram pages, with Megan posting a video of the proposal on her page and MGK, also known as Colson Baker, sharing a video of the ring on his.
According to Megan's video, Baker got down on one knee where their relationship started, under a banyan tree at an undisclosed location, on January 11, 2022. Reflecting on their year and a half together, the actor wrote, "Somehow a year and a half later, having walked through hell together, and having laughed more than I ever imagined possible, he asked me to marry him. And just as in every lifetime before this one, and as in every lifetime that will follow it, I said yes."
What a wildly sweet sentiment, which was immediately followed by "…and then we drank each other's blood." This could be a joke, or maybe the couple that walked a red carpet literally chained to each other by their nails really did exchange plasmas. Who's to say?
In his caption, the musician described the ring he designed for his new fiancé. "I know tradition is one ring, but I designed it with Stephen Webster to be two: the emerald (her birthstone) and the diamond (my birthstone) set on two magnetic bands of thorns that draw together as two halves of the same soul forming the obscure heart that is our love." Thorns bringing hearts together sounds painful, but it sure looks good!
So, no more info on the whole blood exchange, then? Got it. I'll just use my imagination.