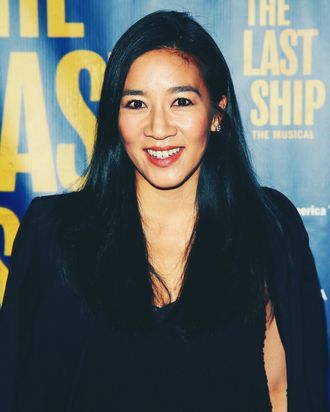 Photo: Jean Baptiste Lacroix/Getty Images
Michelle Kwan, the former Olympic figure skater and recently nominated U.S. ambassador to Belize, has given birth to her first child. "I've always wanted to be a mom and, to me, she's a perfect miracle," she wrote on Instagram alongside a photo of her new baby, Kalista Belle Kwan.
Kwan kept her pregnancy relatively private, never publicly announcing she was expecting. "I've wanted to share this happy news for many months but each milestone seemed to be exciting and daunting at the same time," she wrote. "Each step of the way, I knew that there was still more time needed until I could hold her in my arms." Kwan shared a time-lapse of photos she'd taken over the past nine months showing the progress of her baby bump.
Kwan, 41, said her journey to motherhood had been "challenging" ("not to mention a very long labor!!!") but didn't go into details. "I feel so grateful to have had the support of so many during this time," she wrote, thanking her fertility doctor, other medical staff, friends, and family. She also alluded to her partner, "who I could not live without," though she didn't mention anyone by name. (Kwan was previously married to Clay Pell, a politician and member of the U.S. Coast Guard Reserve. In 2017, Pell filed for divorce, ending their four-year marriage. Kwan reportedly learned of his divorce filing from a tweet.)
She ended her announcement post with well-wishes to other people trying to have children: "I wish anyone trying to conceive in any which way (ivf, iui, surrogacy, adoption and naturally) all the success and love. You're not alone on this path and I'm pulling for you."
Congrats!