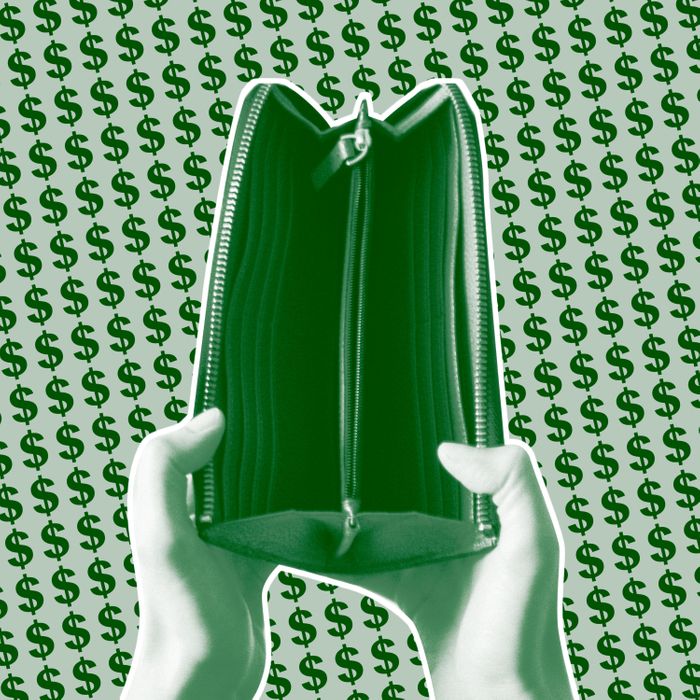 Photo-Illustration: by The Cut; Photos: Getty Images
My husband walked out on me and our 1-year-old daughter about two weeks ago and told me he wanted a divorce. I'm not sure where he is, although I suspect that he's staying with his brother. Neither of them will return my calls or texts. 
My husband has been dealing with mental-health issues for a while, and I know that splitting up is probably the best thing for us and our daughter. (I'm pretty sure that I will get custody as he has never really taken care of her at all.) However, I was not prepared for things to end this way, especially not from a financial standpoint.
I'm 28 and had our daughter in December of 2020. I haven't worked since the beginning of the pandemic, when I was laid off from my job in PR. I was pregnant at the time, so it didn't seem like a great idea to look for something new when I was going to give birth just a few months later. After I had the baby, I stayed home to take care of her because COVID made child care so unreliable (all the day-care places near us were constantly shutting down, and so expensive). My husband works in financial services so he made enough of an income to support us after my unemployment benefits ended.
My husband and I never combined bank accounts, but we did have a couple of shared credit cards. My personal bank account has almost nothing in it at this point, so I've just kept charging groceries and other necessities on our shared credit card like usual. He always pays the bill, and I'm worried he might cut me off or let the card hit its limit. I'm also worried about him paying our rent, which is due soon. (We live in New Jersey.) 
He hasn't filed for divorce yet, so I'm not sure what his financial obligations are to me at this point, legally. I also feel stupid for knowing so little about our finances and winding up in this place. What should I be doing right now to prepare? 
This sounds like an awful situation, and you shouldn't waste another minute feeling stupid about it. No marriage is perfect, but you did not deserve this, and there's no way you could have anticipated it. The good news is that there are a lot of resources for people in your position (which is not uncommon, unfortunately, according to several lawyers I spoke to). Do not be shy about asking for help. This is a lot to face, especially with a baby to take care of.
To suss out your next steps, I talked to two family lawyers referred by the Lilac Tree, a nonprofit organization based in Illinois that offers education, legal services, financial advice, and support groups for people in any stage of separation or divorce. They have a deep bench of experts, and if you're ever in a sticky spot, their hotline will respond to your call in under 24 hours (using a blocked caller ID, in case you're worried about your husband seeing your phone records).
Obviously, I can't give you official legal advice, but I can give you some suggestions for what to do next. First, as you may have guessed, you should talk to an attorney. If you're worried about being able to afford one, you have a couple of options. "Many lawyers will accept credit cards as a means of payment," says Nanette McCarthy, a principal partner at the family law firm Griffin McCarthy & Rice. "I recommend starting with a one-hour consult." (Yes, it might seem odd that your husband will be on the hook for a credit-card bill that includes your lawyer's fees, but in most states, including New Jersey, divorce fees typically come out of the "marital estate," which is the money you shared during your marriage.)
McCarthy also suggests checking local law schools, which often have clinics run by students who can provide free services. Additionally, you could try your county bar association, which usually offers sliding-scale or pro bono legal resources.
Your top priority is to stabilize your current financial landscape. In legal terms, this is known as "maintaining the status quo" — or, in plain English, peace of mind that your husband will keep paying the bills that he did before he left. To make that enforceable, you'll need to file a court order, says McCarthy. (Here's the link to do so in your state.) "The first thing I would do is get it in writing that he'll pay the credit cards and rent as usual, and you will agree to maintain the status quo on your end as well," she explains. That means you'll use the shared credit cards to pay for normal necessities — groceries, diapers, clothes for the baby, etc. It's a good idea to keep records of what you've bought, just in case you need to prove that you weren't spending on anything out of the ordinary.
You won't technically need a lawyer to file a court order, since the forms are relatively simple and can be accessed online. But the process will be faster and easier if you have help, and time is of the essence. "Sometimes it can take several weeks, if not two or three months, to get court-ordered relief," says McCarthy.
It's also a good idea to open a credit card in your own name if you don't have one, says Joshua Stern, the founder and managing partner of the family law firm Stern Perkoski Mendez. Hopefully you won't need to use it and incur unnecessary debt, but it's worth having one for emergencies, especially with a baby in the picture. Having your own credit card can also help improve your credit score, which will be important if you need to rent an apartment or make other financial moves on your own in the future. (It's also smart to check on your credit score just in case your husband incurred any debt in your name without your knowledge, which can happen.)
Another way to buy yourself some security is to purchase gift cards to the stores where you shop — Target, Walmart, whatever. That way, if your husband stops paying the credit-card bill or somehow cuts you off, you'll have something to tide you over. "It's one way of building up a little nest egg for necessities," says McCarthy. "Again, make sure you're keeping track of these transactions and what you spent the money on."
Some people might tell you to start looking for work. That isn't a bad idea, but it also might not be immediately necessary, especially since child care will be an issue. "Do you need to get a job at some point? Yes. Do you need to get a job imminently? No," says Stern. "You have a right to a standard of living comparable to that established during the marriage." (This is the case in most states, including New Jersey.) It's also notable that you stayed out of the job market because it made more sense, financially, for you to take care of your baby, he adds. "From a cost-benefit analysis, you saved the marital estate money by providing child care, so you should have some expectation of getting support while you determine your avenue back to the workforce."
In the meantime, get ahold of any financial documents you can access. This could include your home's rental agreement, bank records, and credit-card statements — anything that shows who paid for what, where the money came from, and how much money there is. It might seem crazy to think that your husband will start hiding funds from you, but … it's not. "Sometimes that stuff starts to disappear when the divorce process begins," says McCarthy. "Any financial information that you can retain, make a copy of it for your records."
All of the above will be useful in the coming months as you prepare for the dissolution of your marriage. But most importantly, remember that this is a time to lean on your full network, including friends, family, support groups, professional contacts, a good therapist, and anyone else who's in a place to help you. Make a list of divorced friends or family members and call them up. Ask them for advice, and then ask them to put you in touch with other divorced friends. Some people will disappoint you, but I think you'll be surprised by how many will show up.