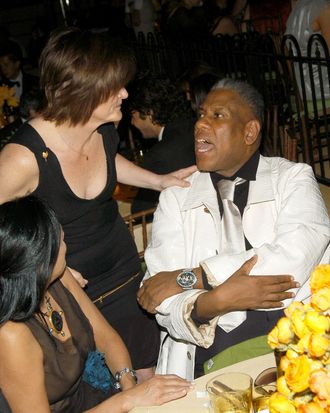 Photo: Patrick McMullan/Patrick McMullan via Getty Image
Soon after joining the fashion staff of the New York Times in 1998, I fell into the habit of arriving early at the office, then in the old building on West 43rd Street. I'd take a 6:30 a.m. train from Garrison, where I lived, and then hoof the several blocks from Grand Central, reaching the paper before 8. Usually Bill Cunningham was already there, and he'd ask, in what became another ritual, "Child, can I borrow your Women's Wear?" And then a bit later, in the stillness of that massive and rather grubby room, my desk phone would ring and it would be André Leon Talley.
It seems to me now that there was a moment when we were simply acquaintances and then suddenly friends, and that moment was when I joined the Times. Although our careers had overlapped in the mid-'90s at Vanity Fair, our day-to-day paths rarely crossed. When he was styling Naomi Campbell as Scarlett O'Hara and the couturier Gianfranco Ferre as Mammy — for a hilarious couture shoot suggested by Karl Lagerfeld — I was interviewing actors in Hollywood. What changed was the rhythm of contact. Once I began covering fashion for the Times, I saw André all the time. I always knew he had a wide and illustrious circle, beginning with Lagerfeld, whom he called his brother, and including Naomi, Marc Jacobs, Manolo Blahnik, the shoe executive (and later dairyman) George Malkemus, Sandra Bernhard, Tom Ford, and numerous rich and titled ladies. But, for all that, I doubt there was ever a person who approached the world with a purer heart. André was just open. He was a mixture of Southern front-porch grandee, straight out of Welty — he was from North Carolina — and persnickety Beaton-esque observer. He missed nothing, and everything delighted him or horrified him in a delightful way. He was also camp personified.
I must admit, though, I didn't know how to take André's attentions at first. I never knew quite what to expect. Once, before a show in Milan, he looked down at my feet and said, demanded, "How did you get those Prada shoes straight off the runway?" This was just as Prada mania was blossoming. I assured André that my shoes, round-toed pumps in black suede, were not the latest Prada, and added, rather earnestly, "They're ten-year-old Alaïas I just happened to pack."
"Oh," he said, pursing his lips. "Anna and I were wondering" — Anna being Anna Wintour, his boss. "She said, 'Cathy Horyn has very small feet.'" A remark to treasure.
But André was a news junkie, and that was really the basis of our connection, coupled with a cozy feeling for home (which I discovered later). Once I started cranking out the copy, writing about Bill Blass and Oscar de la Renta, going in and out of the doorways of Seventh Avenue, where the biggest American designers perched, I finally had something to offer André. He was incredibly plugged in to what was happening in fashion and culture, and he wanted another sounding board, another journalist with whom to volley and crush the tidbits and gossip of the day. Don't forget: André was trained by the best of them, John Fairchild, the publisher of Women's Wear Daily, for whom he worked from the mid-'70s to around 1980. John struck fear and loathing in the minds of designers and socialites, and partly as a result, Women's Wear and W scooped everyone. I think if, as André said, Diana Vreeland was the most important person in his career because she showed him trust, respect, and civility at a tender age, then John Fairchild was his forge. As André wrote in his memoir, The Chiffon Trenches, "From him I learned how to embrace what was going on around me in 360 degrees. What makes a beautiful dress? Hems, seams, the way it's put together. The ruffles. How's the ruffles? How's the bow tie? What's the combination of colors, what's the combination of fabrics? There's Mounia [Ayoub] on the runway, in what?"
In our morning conversations, he extended his knowledge and taste to me — in exactly the same way that the seamstresses and fitters, trained in the '20s, extended their knowledge to a young Lagerfeld in Paris in the '50s, as Lagerfeld himself once told me. In the tributes to André, who died on Tuesday, people call him a trailblazer on race, as the first person of color to reach a top post at Vogue — and, in today's Women's Wear, the paper added in ageism and weight. To me, these are largely woke-era accommodations, and instead of painting a full, complex picture of a very complicated human being, they are a reduction of his qualities. His intense curiosity, his imagination, his broad-gauge knowledge of history and culture.
The truth is André was not the only nor the first Black man to achieve a high place in fashion journalism. There is his contemporary, Michael Roberts, the great English editor and photographer who served in the '90s and early 2000s as the fashion director at The New Yorker and later Vanity Fair, after a distinguished run in London, and who has since gone on to write and illustrate children's books. To be sure, there were very few editors or writers of color in influential positions in Europe or the U.S., just as there were few non-white designers and senior fashion executives. And that remained the case even after the arrival in the mid-'80s and '90s of journalists like Constance White, who worked at the Times, Teri Agins of The Wall Street Journal, and Robin Givhan, who won a Pulitzer for her fashion columns at the Washington Post. Which raises the question: How much pathfinding did André do after he reached the summit at Vogue, given the persistent lag in the hiring of Black editors and photographers across the industry? More to the point, how much could he be expected to do in a business so rooted in white privilege and its notions of beauty that it did not see a problem? Let me be clear: André was not responsible for Anna Wintour's mea culpa in June 2020, after the George Floyd killing, when she said that Condé Nast had not done enough to promote Black talent. But I don't think it's relevant or interesting to turn André or André's memory into a symbol of something. It robs him of his individuality.
It was probably during one of those early morning calls that I lobbed him the idea — the brainchild, I believe, of a brilliant Times editor named Andy Port — of conducting a kind of séance for Diana Vreeland. The plan was to assemble the funniest people we knew, all of whom were close to Vreeland, and have them speak in her manner on a range of new and hot topics, from "heroin chic" to same-sex marriage, and publish it. In short, what would Vreeland say? And that's precisely what we did. I called Kenneth J. Lane, the acerbic, Detroit-born jewelry designer, and one afternoon in April 1999, in Kenny's elegant apartment, André, the editor and former Saint Laurent acolyte Marina Schiano, and Sir John Richardson, the Picasso biographer, put on an extraordinary performance, which I recorded and Andy ran under the headline "Vreelandia."
Whatever else André was, he was a cultivated man, at home in "a very worldly world," to use Kennedy Fraser's description of another fashion original, the designer Valentina. During the shows, there was no place better than between André and Michael Roberts, with an assist from Isabella Blow, as they pulverized a collection. No one knew more about "the bows," and of course much else, and I think that knowledge, coupled with his wit and amazing sense of game, should be André's main legacy.
We had other adventures. One January, during couture, we drove up to the American cemetery at Omaha Beach, André swathed in his Fendi sables. I couldn't tell how interested he was in the memorial. As soon as we got back in the car, he wanted to go straight to McDonald's — the drive-through no less! But later I overheard him say how moved he was by the sight of thousands of white crosses, and I know he was. He also came to my house for a couple of holiday dinners.
Inevitably, though, our friendship ran its course. We still spoke and joked around at shows, but the old closeness — and phone calls — gradually ended. I remember Oscar once remarking on André's silences, that he could suddenly retreat, so I was not altogether surprised when I experienced it. In 2019, I saw him briefly at Marc Jacobs's wedding, and we also emailed about Lagerfeld's memorial service that same year. I'd been invited, and André had not — a huge sting, given the breakdown of his relationship with Karl, which he described in his memoir. I told him there were few if any speakers from the '70s at the service, held at the Grand Palais.
"I should have been included in that tribute," he emailed. "Helen Mirren, what the f - - k. You are so right. Joan Juliet Buck, Paloma Picasso … Grace Coddington should have been interviewed. Tilda Swinton I do understand, but I also was his close friend for 35 years. I was deleted from the fricking list of 2,500 … This is as it should be in today's ugly, crass and cruel world. Civility was decimated. Karl should have had something intimate. This was like a huge soccer event."
Oh, how we will miss him.