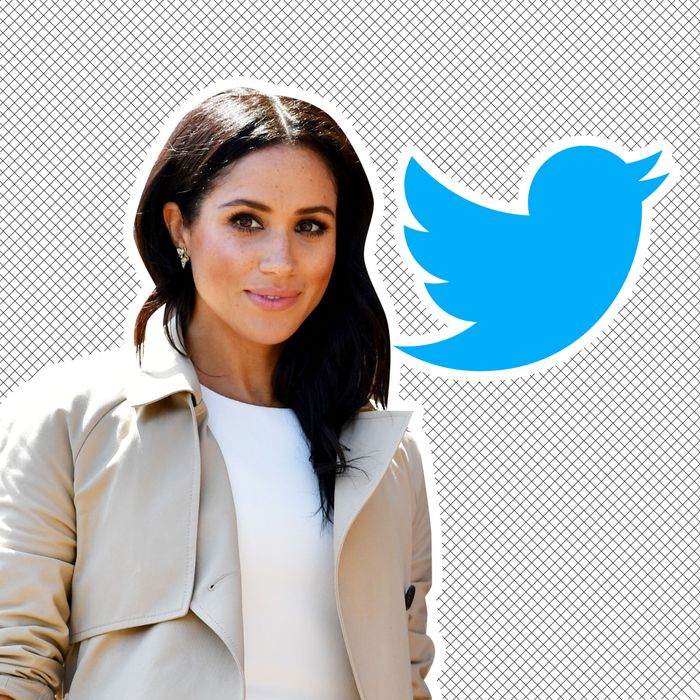 According to a new analysis, the vast majority of hate tweets about Meghan Markle came from just 83 accounts.
Photo-Illustration: by The Cut; Photos: Getty Images, Twitter
Meghan Markle is no stranger to public harassment. She's received it from Piers Morgan, members of the royal family, and people who were mad that she wrote a children's book. The level of hate she has faced, especially online, has felt unprecedented, with Markle previously saying she is among "the most trolled people in the world." In October of 2021, a media report from Bot Sentinel, a Twitter analytics service that has previously looked into the right-wing discreditation of 2020 election results, the spread of COVID-19 disinformation, and the racist abuse of U.K. football players, began analyzing the online hate towards Markle, focusing on Twitter. Bot Sentinel has subsequently released two follow-up reports, revealing that not only was their a coordinated effort on Twitter to spread negative messages about the former royal, but it also spread to monetized YouTube accounts. Here's everything you need to know.
70% of hateful posts about Meghan Markel come from just 83 accounts.
In the initial report published in October, Bot Sentinel found that, while seemingly ubiquitous, much of the targeted harassment of Markle on Twitter actually came from a small but coordinated group of users. In fact, the analysis revealed that 70 percent of the hateful posts examined came from just 83 accounts. The tweets had an estimated reach of 17 million Twitter users.
After Markle and Prince Harry announced their departure from the royal family, Bot Sentinel noted an increase in targeted hate content against the couple. The company looked at roughly 114,000 hate tweets about the Duke and Duchess of Sussex — which included racist content, a tweet calling for Markle's death, and accusations that Markle was faking her pregnancy — posted since January 2020. Bot Sentinel identified 55 "primary accounts" responsible for the vast majority of disparaging content against Markle. An additional 28 "secondary accounts" were flagged as existing primarily to amplify the tweets of the primary group. The handles of these 83 accounts are all listed in the report, though it doesn't make clear who runs them.
"This campaign comes from people who know how to manipulate the algorithms, manipulate Twitter, stay under the wire to avoid detection and suspension," Bot Sentinel CEO Christopher Bouzy told BuzzFeed News. "This level of complexity comes from people who know how to do this stuff, who are paid to do this stuff." Bouzy said that after Bot Sentinel announced it would be looking into hate tweets against Markle, he received his own onslaught of Twitter harassment, with accounts spamming his timeline, mass-reporting his account, and sharing false allegations about him and Bot Sentinel. He told BuzzFeed the harassment was unlike other harassment he or the company had faced, with this content being notably more "personal."
Though Twitter prohibits hate speech and harassment in its guidelines, Bot Sentinel said these accounts have a way of getting around the algorithms that are meant to catch this type of content. These tactics include adding "parody" to their Twitter bio (despite not being a parody account), using coded racist language, and strategically making their profiles private. "This is a game they play with Twitter," Bouzy told BuzzFeed News, "and they know exactly what they're doing."
A Twitter spokesperson told BuzzFeed News that they are "actively investigating the information and accounts referenced in this report — we will take action on accounts that violate the Twitter Rules."
Hate accounts were bolstered by a "bot network" and influenced media coverage of Meghan Markle.
A second report released in November of 2021 found that journalists and royal commentators frequently interacted with previously identified hate accounts. Bot Sentinel reported that, upon analysis, "nine out of ten prominent Twitter accounts that primary cover the royal family, in fact, had interacted with at least one of the 84 hate accounts we were monitoring." This might sound relatively benign, but the report also stated that the organization had found one case in which a conspiracy theory about Markle and Prince Harry's Time magazine cover linked to one of the hate accounts actually made its way to "an award-winning journalist and author," who shared the theory on Twitter and reportedly discussed it on television.
In a third report published later that month, Bot Sentinel found that the hate narrative around Meghan Markle was bolstered by a "bot network," essentially hundreds of inauthentic Twitter accounts that amplified the hate and conspiracy theories about her, while also following some of the 84 hate accounts as well as credible royal reporters and journalists.
The hate campaign included monetized YouTube channels that made over $400,000 combined.
After a few months of silence on the Meghan and Harry front, Bot Sentinel released a fourth report on January 18, 2022, bringing in a new element: YouTube. The report aims to "demonstrate how single-purpose hate accounts coordinate on several platforms, use Twitter to spread disinformation, monetize their hatred, and circulate conspiracy theories on YouTube." Essentially, the report details a coordinated effort by a handful of people who run accounts across platforms with the sole purpose of spreading anti-Meghan Markle messages. These people allegedly work together to create conspiracy theories, circulate them on Twitter, and then detail them in YouTube videos, all to increase views and generate ad revenue.
For example, the report details one YouTube channel focused on anti-Meghan Markle content reportedly has ties to Markle's estranged half sister, Samantha Markle, was able to create a network with two other anti-Meghan channels across platforms. Per the report, these three anti-Meghan YouTube channels have over 70 million views combined, as well as "$495,730" in total YouTube earnings."
The new report also details the use of racial attacks against Markle and even claims that some of these accounts (which are named in the report) have made threats against Markle and her family, and they believe that some might pose a real security threat.
It's unclear whether or not Markle or Harry have read the reports, but it could be pertinent information for the couple as Harry is currently in court, seeking permission to pay for police protection should he and his family visit the U.K.