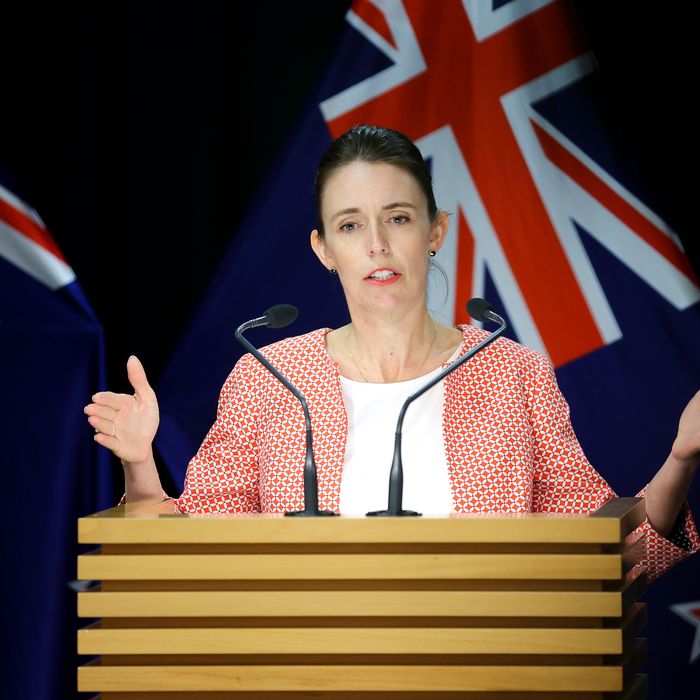 Photo: Hagen Hopkins/Getty Images
New Zealand, land of hobbits, kiwi birds, and actual responsible government officials. As Omicron continues to spread throughout the country, New Zealand prime minister Jacinda Ardern canceled her own wedding, prompting me to desperately want to move there.
Throughout the pandemic, Ardern has had zero tolerance for COVID-19, imposing strict restrictions, including quarantine mandates and limited travel into the country, even for citizens. She's so committed to COVID-19 safety, she smiled through an earthquake on live television to continue speaking about the virus back in May of 2020. So it's not surprising that, after New Zealand recorded its first Omicron cluster, she canceled her nuptials altogether. (Arden also implemented new restrictions, including limiting gatherings of vaccinated people to 100, and mandating the use of masks in public transportation and shops.)
Ardern confirmed that her wedding to Clarke Gayford had been postponed due to a new Omicron outbreak, essentially telling reporters that it was no big deal. "I am no different to, dare I say it, thousands of other New Zealanders who have had much more devastating impacts felt by the pandemic, the most gutting of which is the inability to be with a loved one sometimes when they are gravely ill," she said. "That will far, far outstrip any sadness I experience." (You hear that, people inviting me to large, indoor gatherings?)
Over 90 percent of New Zealanders 12 and over are reportedly fully vaccinated, with children between 5 and 11 recently made eligible. (In contrast, about 63 percent of Americans are fully vaccinated.) But even with such a high vaccination rate, the country is taking the threat of this new variant incredibly seriously, especially as vaccines are known to be less effective against preventing Omicron infection. According to the New York Times, the unvaccinated population of New Zealand will not be allowed to be served in restaurants or even attend religious services.
These countrywide mandates might sound extreme, but they're not too different than restrictions currently in place in various states across the U.S., and given that we're going on two years of this semi-locked-down life, maybe we should take a page out of Ardern's book. Or maybe I should just pack my things and head over to New Zealand.