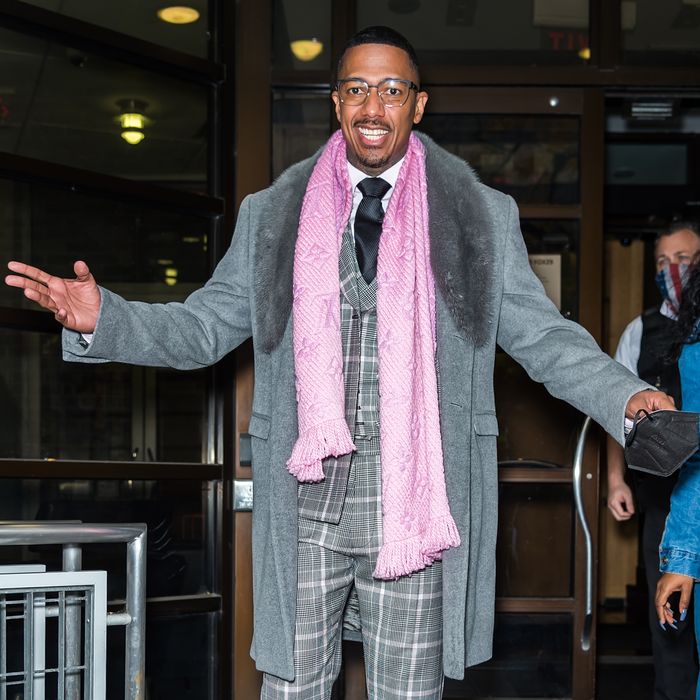 Photo: Gilbert Carrasquillo/Gilbert Carrasquillo/GC Images
Never let it be said that Nick Cannon didn't do his part to preserve the human race. The father of seven is about to become a father of eight, with TMZ reporting that he co-hosted a gender-reveal party with Bre Tiesi over the weekend. Today, Cannon confirmed that he is indeed the father of Tiesi's baby, furthering his brand as an extremely fertile man.
Cannon and Tiesi, a model and former reality-TV star, have been working together on Wild 'N Out since at least 2021. On Monday, Cannon shared one of the pictures from the gender-reveal party on his daytime show, describing Tiesi as "the next mother." (He then admitted calling her that "sounds weird.") Cannon said he's known about Tiesi's pregnancy for a while but wasn't sure how or when to announce it after the death of his infant son, Zen. He said he hadn't planned to talk about Tiesi's pregnancy just yet, but after the gender-reveal party pictures came out, he wanted to address any rumors. "I'm excited, I'm happy … I'm gonna be the best dad I can possibly be," he said before acknowledging his less-than-conventional journey as a father. "Ain't nothing ordinary about me," he said, "I'm fascinating."
This will be the eighth child for Cannon, who has welcomed four children in the past 14 months — daughter Powerful Queen Cannon, welcomed with Brittany Bell; twin sons Zion Mixolydian Cannon and Zillion Heir Cannon with Abby De La Rosa; and Zen with Alyssa Scott. He also shares twins, Monroe and Moroccan, with his ex-wife Mariah Carey, and another son, Golden "Sagon" Cannon, with Bell. Sadly, Zen passed away at just 5 months old in December due to complications with brain cancer.
Cannon's dizzying rate of procreation is truly impressive, especially considering the fact that he ended 2021 with an attempt at celibacy. "I'm going to try to be celibate until 2022," he declared during an October episode of his Nick Cannon talk show. This public pledge came after he admitted that even his therapist felt he might want to slow down the baby-making, telling Entertainment Tonight that his therapist told him he "should be celibate." At the time, he also told ET that he was going to "take a break from having kids." I guess some things just aren't meant to be.
This post has been updated.