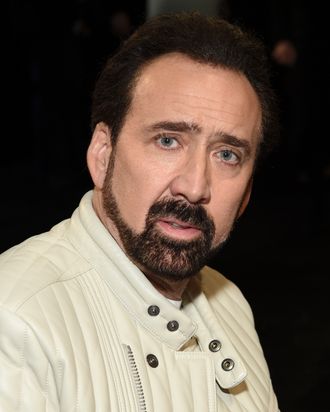 Photo: Michael Kovac/Getty Images
Nicolas Cage is an actor, producer, dinosaur bone hunter, finder of treasure, lover of Cher, and "a goth." The often bewildering actor recently opened up about his dark side in an interview with the Los Angeles Times while speaking about his pet crow, Huginn, saying he enjoys "the goth element" of crows. "Crows are very intelligent. And I like their appearance, the Edgar Allan Poe aspect. I like the goth element. I am a goth," he said.
But it turns out Cage's very goth crow is actually more of an insult comic. "He has taken to calling me names," the actor said. "It's comical; at least it is to me. When I leave the room, he'll say, 'Bye,' and then go, 'Ass.'" So the crow itself doesn't seem super-goth, and neither does its name, Huginn, which Cage explained was the name of one of Norse god Odin's two ravens. (If you are a goth and have determined that Norse gods are goth, then I apologize.)
Cage has been in his pro-crow goth era for a while. He bought Huginn in 2020, telling Interview magazine that he got the "African pied crow" as a new addition to his pet family. "I like to surround myself with reptiles and fish and cats," Cage explained, and said he had recently expanded his menagerie to include birds. Even back then, Huginn was a pro at insulting his owner. "He says 'Hi' when I walk into the room, and 'Bye' when I leave," Cage said at the time before adding a truly chilling detail. "The other morning, he started laughing and called me an asshole." Because who doesn't love having a pet crow that laughs.
But that's not all. Speaking with Interview, Cage elaborated on the eccentricities of his then-new pet, saying, "He likes to eat cat food … I think he has a sense of humor." He added that he was hoping to teach it to say cock next.
So just to recap: Cage has a beloved pet crow who is very goth, calls Cage an ass, taught itself how to laugh, and eats cat food. If I had to pick a celebrity to have a pet crow that eats cat food and insults its owner, I would definitely say Nic Cage, but after learning about this "goth" creature, I am not convinced Cage isn't living in some kind of twisted Disney fantasy world that one can only find with a secret map on the back of the Declaration of Independence.