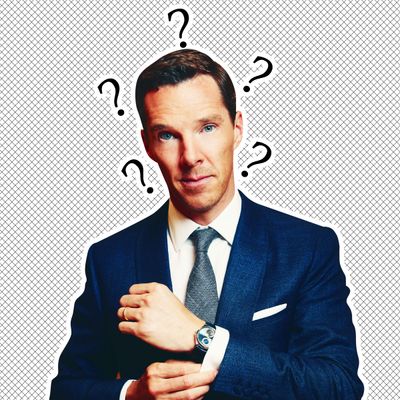 Photo-Illustration: by The Cut; Photos: Getty Images
Benedict Cumberbatch has played a hat-wearing detective, a rude wizard, and a mean cowboy. To some, he is hot. To others, he is annoying. To me, he is a man who recently learned how to castrate a bull. But for Wheel of Fortune host Pat Sajak, the name Benedict Cumberbatch is just a meaningless jumble of British-sounding syllables. Which, no offense to Cumberbatch, sounds pretty nice.
Sajak was in the middle of hosting a Sunday night episode of Celebrity Wheel of Fortune when Benedict's name came up in an answer. Actually, the answer was Eggs Benedict Cumberbatch, which sounds like a menu item at a Comic Con brunch. Anyway, Sajak asked the contestant who'd solved the puzzle, Tatyana Ali, to tell the audience who Cumberbatch is. Ali said, "Benedict Cumberbatch is … an actor. Right?"
Which put Sajak in a precarious position since, actually, he had no idea who the hell this man was. "I didn't have the answer," he confessed, "so I pretended like I was just saying, 'I of course know it, but you tell us.' And that was a little host trick." To which I say: Forget your little host tricks, Pat. You don't have to know who Benedict Cumberbatch is. You don't have to know that he recently played a man who draws psychedelic cats, or that he once saved a food-delivery bicyclist from getting beaten up. That bicyclist is okay, and so are you!
Before he started the next round, Sajak apologized to Benedict, explaining, "I spend a lot of time in my basement. I have no idea what's going on." I bet he has a really high IQ and has never even thought about Machine Gun Kelly's coccyx. Must be nice.