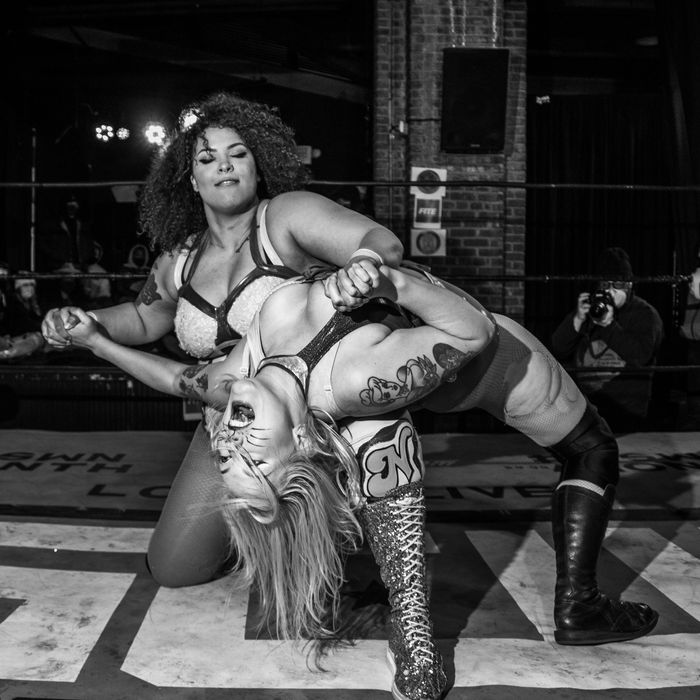 Willow Nightingale vs. Allie Katch at the Voltage Lounge in Philadelphia, January 2021.
Photo: Sofie Vasquez
The first indie-wrestling competition 23-year-old photographer Sofie Vasquez ever photographed was at a stadium in the Bronx. She was 19 at the time, a community college student studying documentary photography. As a mainstream-wrestling fan, she was enthusiastic to get into the indie circuit, independently run promotions that are smaller than the major televised matches. "It was dark, it was smelly, it was cool," Vasquez remembers. She's a Bronx native herself and lives in Soundview with three generations of family. "I like to say I'm 'on the 6' like J.Lo to all my friends," she says. While Vasquez found much about the Bronx wrestling scene backwards — like its commitment to kayfabe, an orchestrated effort to preserve the "magic of wrestling," the fourth wall that insists rivalries between competitors are genuine — Vasquez found magic in realism.
"The best photos I took during that time were in the women's bathroom," Vasquez says. In the bathrooms, safe from the misogyny and racism that sometimes unfurled ringside, she watched the woman wrestlers talk and change and prepare for matches. Many male wrestling veterans didn't approve of Sofie's fourth-wall-breaking documentary work, but the women didn't mind. "For them, it was like, Oh, it's Sofie. We trust Sofie. I was the only girl photographer there." Vasquez photographed the Bronx wrestling scene for two years. Her favorite images from that time, she says, are of the women getting ready, putting on their makeup and prepping for matches. "I learned how to be a fly on the wall."
When Sofie was 15, she was introduced to mainstream wrestling through her grandfather, who regularly watched WWE. One day, she decided to sit down and join him. The experience was transformative. Vasquez was an "emo teenage girl" looking for self-expression, and up until then, she'd only found it in indiecore and pop-punk music — the "Tumblr 2014 era." Vasquez aspired to be a music journalist and to someday tour with musicians. In high school, she took her camera to concerts and asked professional photographers for tips, drawing inspiration from the tour photography of Annie Leibovitz. "Wrestling filled the void of that teenage dream," says Vasquez. The story lines wrestlers created every Monday, Tuesday, and Friday night on television resonated with her — they were about loners and rebels and underdogs, and "as an emo kid, I was like, No one understands me," says Vasquez.
When the pandemic shut down the Bronx wrestling scene back in March 2020, throwing the livelihoods of indie wrestlers into question, Vasquez took time off from college and traveled to different wrestling territories across the U.S. She photographed the scenes in Atlantic City and Pittsburgh; in Texas and Chicago; in Indiana and Maine. She shot in barns and at PolyAm Cult parties, surrounding herself with inclusive circles of wrestlers, many of whom are openly gay, transgender, or nonbinary. In the same way that Vasquez had left behind the insular Bronx wrestling world, finding more comfort shooting outside of it, these wrestlers found relief from the backwardness of their home territories with each other. "It is a safe haven," Vasquez says of the indie scene, but only because the wrestlers who make it that way have experienced wrestling being "not a safe haven first."
Shot in analog and resplendent color, in candids and tender, quieter portraits, "Almost Famous: An Indie Wrestling Diary" is a capsule of the year Vasquez spent traveling and photographing. While archiving the work, Vasquez — a fan of Cameron Crowe's Almost Famous — noticed that many of the wrestlers she'd captured had since signed on for big promotions, and that she'd captured them on the precipice of making it.
"Look how down-to-earth and incredible these people are," Vasquez says, surveying the series. Though she's seen the darker parts of wrestling subculture with her own eyes (she cites high and early-in-life death rates), she wants to capture the joy and grit of the work. "They're doing the most, because they have a dream they want to accomplish. I know it's cheesy to be like, 'Follow your wildest dreams.' But really, that's what this body of work is."
In one photo, two female wrestlers fight in the ring so intimately there's a dancelike quality to the way they touch. In another image, Vasquez's friend stands in front of the Maine motel, to commemorate the time the two of them were stranded in the state. In a diptych, we see wrestler Warhorse in face paint, alongside an image of a young fan also wearing his signature makeup. The diptych is one of Vasquez's favorite photos of the series: an unabashedly on-the-nose representation of how interlinked the wrestlers and their fandoms are. Vasquez sees the opportunity to have captured this year as a privilege, and hopes to one day turn the series into a book. "I see it as like a tour in the Almost Famous movie," Vasquez says. "I had the opportunity to do something outrageous for a while."