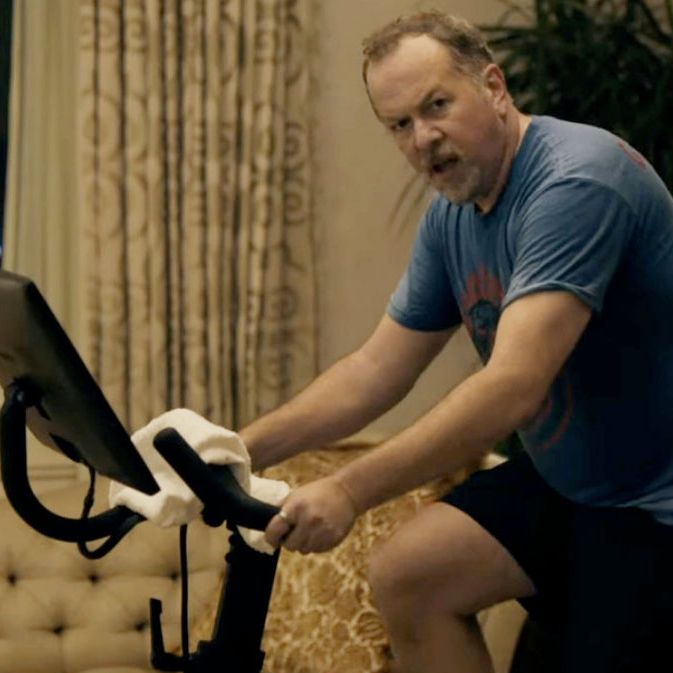 Things are not looking great for Peloton … again. You may recall that HBO Max's Sex and the City reboot, And Just Like That …, infamously killed off Carrie's husband post-ride, prompting Peloton to trot out their own cardiologist to assure stationary-bike-riders across the nation that their workouts were perfectly safe. Now a second prestige TV show has depicted a character suffering a heart attack after using one of their products.
Billions, a popular Showtime series about hedge-fund guys, aired its season-six premiere last night, where one of the characters — a hedonistic hedge-fund COO nicknamed Wags — hops off mid-ride, only to realize he's also mid-heart-attack. Wags fares a little better than Big, though: He survives his trip to the ER and returns to work one scene later.
Fatal or not, Peloton really does not want their bikes anywhere near onscreen cardiac disasters, which makes sense: Big's fictional death had enough of an impact that their stock took a dip the day after the episode dropped. Maybe because their last PR response didn't entirely go as planned, the brand stuck to Twitter to respond to the latest episode, where they again promised that, actually, biking is good for your health. "We did not agree for our brand or IP to be used on @sho_billions or provide any equipment," they wrote. "As the show itself points out, cardio-vascular exercise helps people lead long, happy lives."
Also claiming innocence: Billions co-creator Brian Koppelman, who told USA Today that the episode's script was written and filmed months before Big's death aired. When news of the heart attack heard round the world reached the Billions writer's room, they added a line to the script acknowledging the similarities: Upon Wags's triumphant return to the office, he proclaims, "I'm not going out like Mr. Big." I have no doubt that a floor full of fleece-vested hedge-fund bros understood this reference.
TV appearances aside, Peloton has had a rough few months. Last week, leaked internal documents claimed that the company was temporarily halting the production of its bikes and treadmills due to a lack of demand. CEO John Foley denied the rumor but acknowledged that the company is considering layoffs and production curbs, so it's no wonder they're trying to uphold their public image. The last thing they'd want is Kendall Roy keeling off a bike during a coke-fueled Hamilton ride.