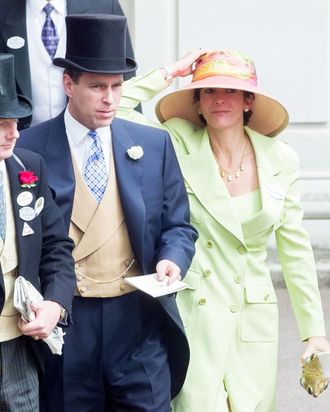 So anyway, here's Prince Andrew and Ghislaine Maxwell attending the Royal Ascot Race together in June 2000.
Photo: Shutterstock
Prince Andrew has finally delivered a detailed response to Virginia Roberts Giuffre's allegations of rape and sexual abuse, which basically boils down to "nope, wrong." Re: Jeffrey Epstein, who allegedly provided the prince with underage girls for sex purposes, Andrew acknowledges he "met" the late financier "in or around 1999," but maintains he doesn't know anything about the trafficking. Of Giuffre's claim that he sexually assaulted her on three occasions when she was 17 and therefore a minor, he suggests that — just hypothetically speaking — her claim would be "barred by the doctrine of consent" if it were true, which (according to him) it isn't. And with respect to his allegedly "close friendship" with Epstein's convicted conspirator, Ghislaine Maxwell, Andrew's rebuttal goes something like this: I don't know her … that well.
In 11 pages of court documents, filed Wednesday in the U.S. District Court for the Southern District of New York, the Duke of York's attorneys made a point-by-point denial of the allegations outlined in Giuffre's civil suit. Giuffre says she was made to have sex with the duke three times between 2000 and 2002: once at Epstein's New York City mansion, once on Epstein's private jet, and once at Maxwell's London home after an aggressively sweaty night of dancing. Through his attorneys and statements from the palace, Andrew has denied all contact and tried to distance himself from Maxwell, explaining in a baffling BBC interview that he has no memory of ever meeting Giuffre and, by the way, was actually medically incapable of sweating during the period in question. Unfortunately for Prince Andrew, there's a photo of him with his arm wrapped around a teenage Giuffre's waist, with Maxwell smiling in the background. The picture is believed to have been taken at Maxwell's house ca. 2001, and in this most recent filing, Andrew's attorneys say he "lacks sufficient information to admit or deny" its authenticity.
But it's the Maxwell connection that really jumps out: The socialite (daughter of the British media mogul and former member of Parliament Robert Maxwell) introduced Epstein to Andrew in the '90s. At the time, she was dating Epstein, but according to a recently aired ITV documentary — Ghislaine, Prince Andrew and the Paedophile — some staff at Buckingham Palace remember Ghislaine as a fixture at the property during the early aughts. "From the way she was allowed to enter and exit the palace, at will, we realized … suspected, that she may have had an intimate relationship with Prince Andrew," one former officer, Paul Page, recalled in an interview. "A colleague of mine remembered her coming in four times in one day from the morning 'til the evening — she kept coming in and out, in and out."
While the dating rumors have not been confirmed, the friendship seems undeniably tight-knit. There are so many documented hangs on the books: See the photos of Epstein and Maxwell lounging outside a cabin at the queen's Balmoral estate; or the photos of Maxwell and, oh no, Kevin Spacey sitting on the Buckingham Palace thrones; or the guest list at the queen's Dance of the Decades in 2000 (Maxwell and Epstein attended at Andrew's invitation); or the surprise birthday party Andrew threw Maxwell at the queen's Sandringham estate later that year. The list goes on, but I am just wondering this: Who throws an acquaintance a multiday surprise party at their famous mom's house?
No clarification on that score yet, but Prince Andrew now "demands a trial by jury" on all counts in Giuffre's complaints, so maybe we will see.