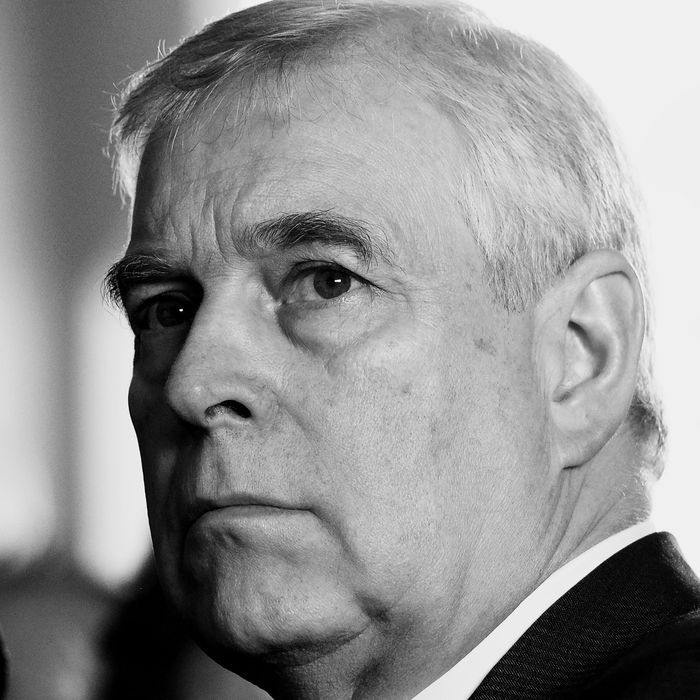 Prince Andrew.
Photo: Ian Forsyth/Getty Images
Prince Andrew, as you have likely noticed, is in the news a lot recently, though never for reasons that are positive. In August, Virginia Roberts Giuffre, a victim of the late child sex-trafficker Jeffrey Epstein, filed a lawsuit accusing the prince of raping her when she was a minor — not new allegations, but maybe especially damning, given that Giuffre put the possibility of a trial on the table. In the intervening months, a jury convicted the Duke of York's friend and Epstein's madam, Ghislaine Maxwell, on multiple counts of sex-trafficking. Though Andrew categorically denies Giuffre's claims, a New York judge gave Giuffre's lawsuit the green light to move forward, meaning he may have to explain himself in court. In short, things look bad for him! And by extension, the crown, which may explain why Andrew's mother — Queen Elizabeth II — has now revoked more of his titles and duties.
In a statement issued January 13, Buckingham Palace announced that, "With the Queen's approval and agreement, the Duke of York's military affiliations and Royal patronages have been returned to the Queen. The Duke of York will continue not to undertake any public duties and is defending this case as a private citizen." Per the BBC, he will not be able to use "His Royal Highness" in any official capacity.
The last time Andrew weathered a high-profile demotion, he had just given a very embarrassing interview to the BBC in 2019, calling his long friendship with Epstein "useful" if also "unbecoming," and attempting to debunk Giuffre's memory of their first meeting — allegedly at a London club called Tramp, where Giuffre says the duke was "pouring with perspiration" during his "hideous" dancing — by explaining that, actually, he temporarily lost his ability to sweat after the Falklands War. (Giuffre's attorneys have now asked him to please prove it; he can't!) In the days that followed, Andrew announced his supposedly voluntary resignation from public duties — though palace sources said his mother actually fired him and took away his salary. Something similar happened in 2011, when Andrew stepped down from his role as royal trade envoy after photos from his 2010 visit to Epstein's New York mansion published in the tabloids. At the time, Epstein had already accepted a plea deal for soliciting prostitution, and the allegations about his serial sex abuse of underage girls were widely known. All of which to say, some degree of wrist-slapping seems to follow when a Prince Andrew scandal peaks.
In this case, though, the duke's honorary military titles had actually been in suspension since 2019, but per the Guardian, a group of 150 military veterans wrote the queen this week, expressing their "upset and anger" at still being associated with this man. "Officers of the British armed forces must adhere to the very highest standards of probity, honesty, and honourable conduct," they wrote. "These are standards which Prince Andrew has fallen well short of. It is hard not to see, when senior officers are reportedly describing him as 'toxic', that he has brought the services he is associated with into disrepute."
Asking that he be stripped of his ranks, even dishonorably discharged, the veterans continued: "We understand that he is your son, but we write to you in your capacity as head of state and as commander-in-chief of the army, navy, and air force. These steps could have been taken at any time in the past 11 years. Please do not leave it any longer."
Ask and you shall receive, sometimes.