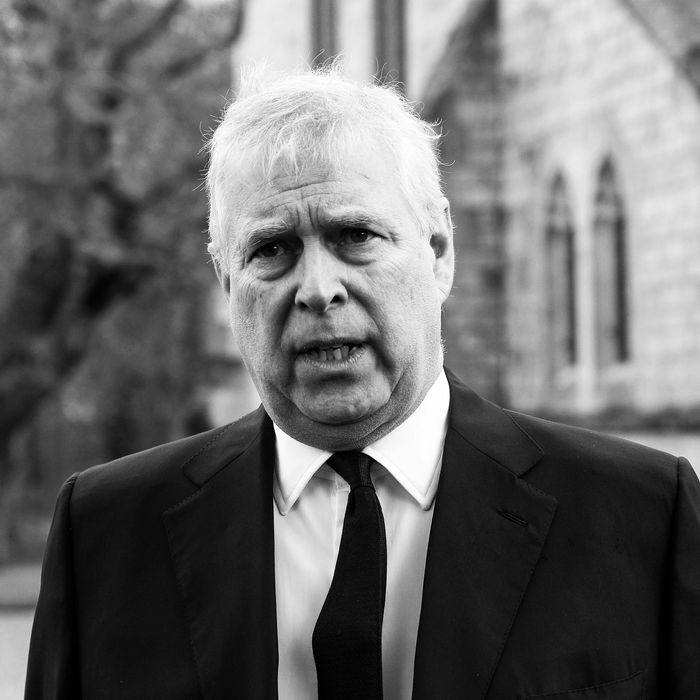 Prince Andrew, teddy-bear enthusiast.
Photo: WPA Pool/Getty Images
Every alleged new detail about Prince Andrew is somehow more embarrassing than the last. He has deflected allegations of sexual abuse with the bizarre assertion that he does not sweat. The queen has demoted him. Twice. And now, a new documentary claims the Duke of York would yell at household staff if they did not arrange his extensive stuffed-animal collection to his liking. This man is ninth in line to the throne.
Tonight, British network ITV is airing Ghislaine, Prince Andrew and the Paedophile, a documentary centered on the allegations against Andrew and his connection to Ghislaine Maxwell, Jeffrey Epstein's former partner, who was recently found guilty on multiple counts of sex trafficking. (Her legal team has asked for the judge to declare mistrial.) Andrew is currently being sued by Virgina Roberts Giuffre, who claims the duke raped her in 2017. Andrew has repeatedly denied any allegations of misconduct. In the new documentary, a former palace officer says he and other staff members suspected Andrew and Maxwell had an "intimate relationship," and a friend of Maxwell's shares a similar supposition. Andrew has previously said that Maxwell is a close friend and the one who introduced him to Epstein, though claims about their relationship remain largely speculative. The same former royal employee, Paul Page, also claims that Andrew had very specific instructions when it came to his collection of teddy bears and other stuffed toys. This is a claim I am perfectly comfortable speculating about.
Page, who worked for the royal family from 1998 to 2004, says Andrew kept laminated instructions in a bedside drawer that included a diagram on how to arrange his dozens of teddy bears. "When the DOY is staying overnight, place one small teddy & cushion in the turn down," the instructions read in part, per the Daily Beast. "When making the bed, place the teddy & cushion next to the teddy on the left-hand side with the necklaces on." Some of the stuffed animals were reportedly emblazoned with words like "Daddy," "Ducks," and "Prince." Ew and, furthermore, gross.
"It had about 50 or 60 stuffed toys positioned on the bed and basically there was a card the inspector showed us in a drawer and it was a picture of these bears all in situ," Page continued. "The reason for the laminated picture was, if those bears weren't put back in the right order by the maids, he would shout and scream." At the time, Andrew would have been, at the youngest, 38 years old.
In 2019, Journalist Elizabeth Day wrote about her own encounter with Andrew's stuffed animals in 2010. She recalled seeing a giant teddy bear in the hallway. When Day asked, Andrew laughed and claimed it was a wedding gift from his ex-wife, Sarah Ferguson. He and Ferguson got married in 1986 and divorced in 1996, so I'm a bit dubious. The Daily Beast says Andrew himself talked about his collection in a 2010 interview: "I've always collected teddy bears. Everywhere I went in the Navy I used to buy a little teddy bear, so I've got a collection from all over the world of one sort or another." It's unclear where this quote is from, but personally I would not be surprised if this man like to buy "a little teddy bear" every now and then.