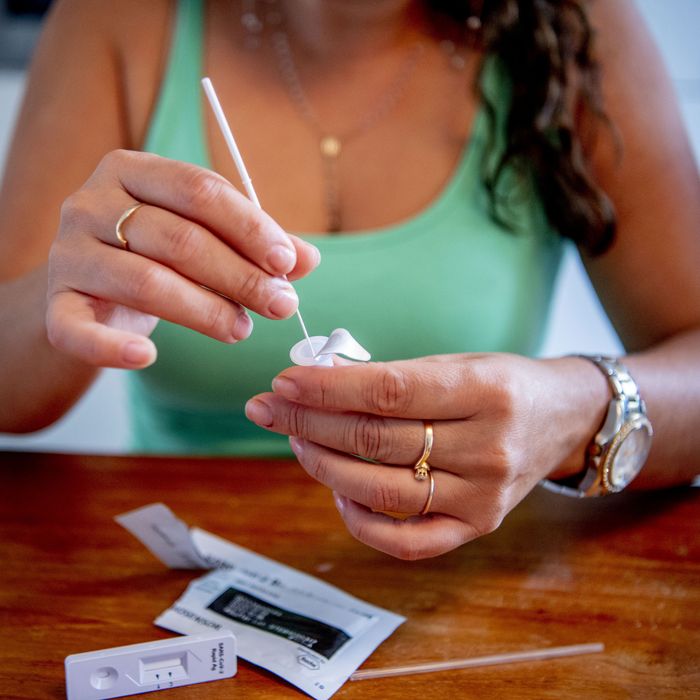 Photo: Robin Utrecht/Shutterstock
Well, it's 2022 and here we are in yet another raging COVID surge. One piece of good news, however, is that we now have rapid at-home COVID tests, which have become a helpful tool in detecting and tracing new cases (at least when they're in stock). The CDC's most recent guidelines on self-testing, which were updated in December, advise using at-home tests before indoor gatherings with people who aren't in your household.
While rapid tests have historically been hard to come by and/or expensive, amid Omicron they've become ubiquitous — which means you may have some questions. Which ones should you buy? When should you test? And how accurate are they? To help answer these questions and more, we spoke to Adam J. Ratner, a pediatric infectious-disease specialist at NYU Langone.
What should you know before buying an at-home test?
At-home tests are a fast and easy way to screen for whether you're contagious with COVID-19. Typically they include nasal swabs and give you results in about 15 minutes.
You can buy at-home tests at a pharmacy or online. Make sure that the test you're buying is FDA approved: There are currently only 14 authorized tests on the market, all of which are listed on the FDA website. If you're buying tests online, Ratner recommends double-checking that it's authorized (and hasn't been recalled).
Will my insurance cover the cost of the test?
The U.S. has lagged behind other countries when it comes to testing. Even now, rapid tests can still be hard to come by, and they're often expensive. In the U.S., rapid test kits cost anywhere from $10 to $15 or more apiece, which is considerably more expensive than in Germany, where they're sold for $1 each at grocery stores, and in the U.K., where you can get your first 14 tests free.
With Omicron spreading, the Biden administration has announced plans to make at-home tests more widely available, including requiring private insurers to cover eight tests a month for individuals starting January 15, though the details are a bit complicated. Under Biden's proposal, insured Americans will be able to get tests with no out-of-pocket costs at their health plan's "preferred" pharmacies. (At out-of-network pharmacies, you'll need to front the cost and then file a claim for reimbursement, and your insurance will only be required to cover $12 per test.) Critics have pointed out that the plan doesn't lay out the reimbursement process, which leaves room for companies to make it logistically challenging, nor does it provide a deadline by which they're required to pay the reimbursements.
The administration also pledged that 500 million free tests will be available for ordering, though it's not clear when that plan will officially take effect.
How accurate are at-home tests?
Rapid at-home tests aren't as sensitive as — and therefore aren't a substitute for — PCR tests. But Ratner says they're still useful as a screener before gathering, because they are good at picking up people who have just enough virus in their upper airways to be contagious. "You may miss someone, but you will catch just about everyone who is contagious," Ratner says. "It's not a foolproof strategy, but it's a good strategy."
When it comes to COVID-19 tests, PCRs remain the "gold standard," Ratner says. They are much more sensitive than rapid tests, and they have the ability to pick up "minute amounts of RNA" from the virus long before there are enough traces for a person to be contagious. While PCR tests are useful for diagnosing people who may have been exposed, it typically takes up to three days to get results (and with the testing crunch, many people have had to wait even longer). This means that PCR tests aren't great for screening large numbers of people quickly.
Basically, with rapid tests, it's worth keeping in mind that a negative result isn't a guarantee that you don't have COVID, since it could just be too early for the rapid test to pick it up. Therefore, if you have reason to suspect you have COVID — such as a known exposure or symptoms — Ratner recommends staying home (and potentially quarantining) even with a negative result. You should also get a PCR test within the next few days.
But for people who aren't aware of having been exposed, who don't have symptoms, and for whom the probability that they have COVID is generally low, rapid tests are effective screeners. After all, "if you find someone who's positive, you've potentially averted a disaster," Ratner says.
When should you use at-home tests?
The CDC recommends self-testing if you have symptoms or have been potentially exposed to someone with COVID-19. Its guidelines also advise using them before gathering indoors with people outside your household, especially if those people are at higher risk for COVID-19. Likewise, Ratner recommends testing before and after gatherings, travel, and any other time you feel it might be necessary, such as when you're going places where you'll be indoors with unvaccinated people and children.
You may also want to test more than once. For instance, if you're planning on hosting a party, Ratner suggests having everyone use an at-home test the morning of, and right before, the event. "If you unexpectedly test positive, you should stay home," Ratner says. Which obviously isn't fun, "but it is the one thing we can do to keep people safe." Ratner also recommends testing just before travel, "with the idea that you would delay travel if the test is positive," as well as when you return, before going back to work.
What else should we know about them?
While testing is one precaution we should take to keep safe, Ratner says it's not a substitute for other precautions — especially vaccines. "Everyone who can be vaccinated should get vaccinated," he says. Ratner also advises getting booster shots, if you're able: The CDC now recommends that everyone over the age of 12 receive a booster. As cases increase, and as Omicron continues to spread across the U.S., Ratner suggests people consider having fewer people at parties, try for outdoor activities, and stick to places that are less crowded and better ventilated. The fewer unvaccinated people you have at your gatherings, the safer it will be, says Ratner.
This post has been updated.