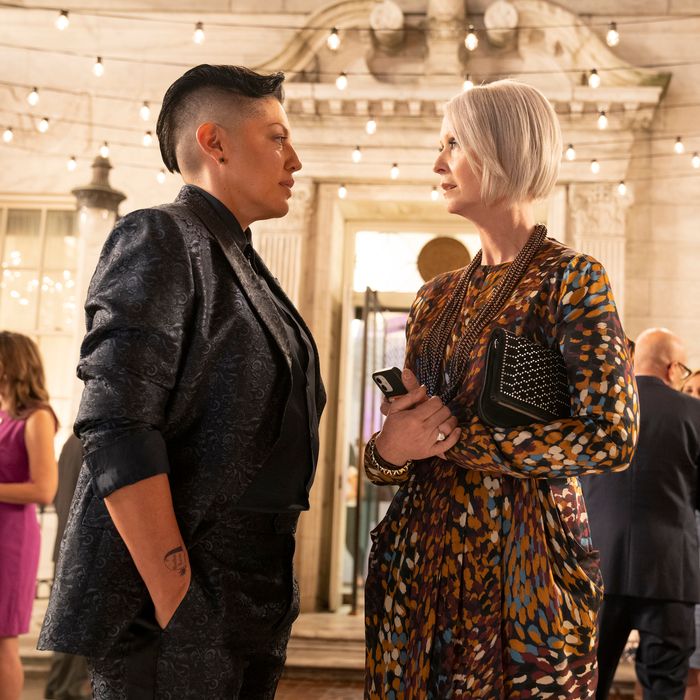 Photo: Craig Blankenhorn/HBO
Welcome to the Cut's recap series for And Just Like That …, from the brains behind the pop-culture museum THNK1994. Spoilers ahead.
Dear Samantha,
We went to the Che Diaz LGBTQIA+ equality gathering which had about 80 people in a corner of Thomas Paine Park, where Alex McCord once stood. They said some words that really spoke to us, like: "If you are living your truth then you're a part of the revolution." Now, you have always lived your truth, whether you were being persecuted for blowing the Worldwide Express guy in your office or throwing plates with your lesbian lover Maria in your Meatpacking Distract loft, and it seems like it's time your friends live theirs.
At the rally, Miranda is forced to hide from her truth. While cheering on Che, she looked over to the Ally Section and saw allies Brady and Luisa, which led her to skulk out of the crowd to "get coffees." Che noticed and cornered her when it was over. Finally (for Che) the truth is revealed: Miranda is not in an open marriage. Due to Steve's wonderful trusting nature, Miranda has not gotten around to telling him that she's queer now.
Later over fast-casual lobster at the Chelsea Market with the girls, Miranda reveals she is going to tell Steve she wants a divorce. She wants to run away with Che and also be alone and she just doesn't want "this." Later, while brownie-shopping, Carrie implores her to make sure Che actually wants her.
Charlotte's truth is that Harry is going to die. As you know, whenever bad things happen to her friends she starts to question her life and see where it can go wrong. So she gets on her knees and presents Harry with an Oura ring since she saw he had some candy in his drawer and now needs to track his biometrics. While she is down there she decides to blow him. Lily walks in, and like any good mother, Charlotte slams the door on her daughter's face, knocking her in the head. She tells Lily she was just checking Harry for penis cancer. It was for her own good, but Charlotte starts to question whether or not she was facilitating enough of a sex-positive environment. So she takes Lily out for some lunch and some woman-talk, only to discover Lily's provocative finsta. (It only has 13 followers but features a photo of her in crop-top athletic wear.) Turns out, Lily is trying to discover her own truth. She's doing so by helping her crazy aunt Carrie, whose apartment is her new hideout, catalogue her collection of vintage in exchange for some pieces.
Crazy aunt Carrie is sorting out her life, but first she's sorting through her racks and racks of amazing clothes. She has Seema over for takeout sushi and Versace — and shows her the Paris Dress. Once Seema sees it she needs a cigarette and Carrie reveals that she now only smokes once a day, for a walk around the block while covered in many kerchiefs and dishwashing gloves, otherwise she smells it on herself and wants to smoke nonstop.
Her daily walks are interrupted by her new neighbor who is a young cool jewelry designer from L.A. and not a Russian hooker as Seema assumes (apparently the high-end real-estate market is full of them and also Colin Jost is a real-estate tease). The confrontation between her and Lisette Alee (Katerina Tannenbaum), a modern girl about town, leads Carrie to face her most daunting question yet: Is she still cool?
She yells down at Lisette and her "hipster friends" while they are stooping it up at 2:30 am and they respond by calling her "ma'am." Not cool. But when Lisette comes up to apologize, Carrie explains she was not sleeping, she just writes books at night. Cool. Then Carrie apologizes for not being cool by dropping off some baked goods. Cool. There's sugar in it. Not cool. Later, Carrie breaks into Lisette's apartment while she's passed out with a champagne glass in hand, wearing a see-through evening dress. Carrie turns the blasting music down, blows out a candle, and goes through her mail. Kind of cool. By the way, Samantha, remember when you were almost arrested for insider trading? Lisette's boyfriend does the same thing Chip Kilkinney did, dropping his towel when Carrie brings the baked goods! Full frontal follows. Whoop it up! He also calls her "ma'am"! Finally, Carrie witnesses a breakup between Lisette and her boyfriend but laughs it off, saying, "That's just New York dating," and Lisette gives her what we all need: She tells her she's cool.
In the end, our friends end up exactly where they need to be, as their most authentic selves. Charlotte has a sit-down with Lily and eases up on her — and also tells her she didn't find any penis cancer when she was doing her penis-cancer check on Harry. Miranda asks Che if it's real between them and upon hearing that Che loves her back but can't give her anything traditional runs home to tell a confused Steve it's over.
Steve, beautiful ever-loving Steve, tells her he's too old to fight for them anymore and that she has always done this and lets her go. Which means that Miranda is running off to the airport to board a flight to Cleveland to surprise Che and, we can only guess, to get her heart broken. And crazy aunt Carrie is right where she needs to be, wearing Versace, eating Jiffy Pop alone in her apartment, and most importantly, cool.