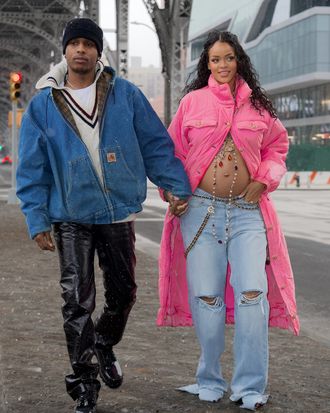 Mommy? Sorry, Mommy? Sorry, Mommy?
Photo: DIGGZY/SHUTTERSTOCK
Rihanna heard your desperate pleas for her to drop the album and has instead decided to drop a pregnancy announcement. Yes, Robyn Rihanna Fenty is pregnant. She was photographed with boyfriend A$AP Rocky in New York City over the weekend, strolling through the slush and debuting a prominent baby bump. If you need me, I'll be crying, screaming, applauding, throwing up, etc.
I'm not sure how I imagined Rihanna would announce a pregnancy, but these (very staged) paparazzi photos exceed all expectations. There's A$AP Rocky in leather pants and something that looks like a hooded sweater vest. There's Rihanna's … everything! Her long pink jacket. Her exposed stomach, adorned with a bejeweled cross. Her jeans dragging on the gorgeous brown sidewalk. It is an absolutely buck-wild outfit for freezing weather, and it better be one of the most popular Halloween costumes this year.
Rihanna and A$AP reportedly started dating in late 2020. We've been gifted the occasional shot of them making out, and A$AP called Rihanna the "love of my life" in a 2021 interview with GQ. However, they've remained relatively private throughout their relationship. Needless to say, a pregnancy announcement is a (very welcome) surprise.
It's unclear when we can expect Baby RiRi. In the meantime, any and all speculative baby names are encouraged. Diamond? Rihanna Jr.? Umbrella? (Could be an incredible gender neutral name …)
Regardless, congrats to Rihanna and A$AP Rocky, and our condolences to Drake.