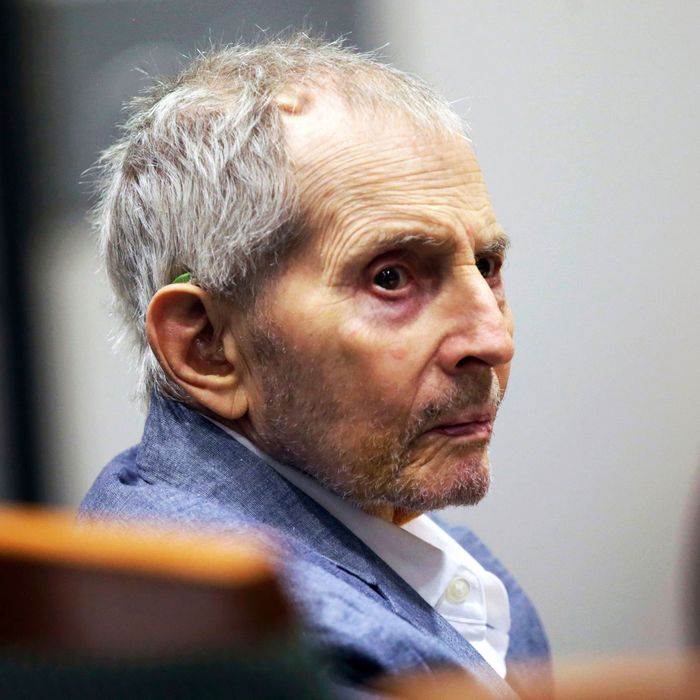 Robert Durst.
Photo: Alex Gallardo/AP/Shutterstock
Robert Durst, presumed serial killer and subject of the 2015 documentary The Jinx, has died at the age of 78. According to his attorney, Chip Lewis, Durst was transported to the San Joaquin General Hospital to undergo tests, but went into cardiac arrest. His health — not good even before his murder conviction in September — declined further after he was hospitalized for COVID-19 in October, days after a judge sentenced him to life in prison. The exact cause of Durst's death has not yet been announced, though he was known to have bladder cancer, plus a suite of other ailments.
An heir to a commercial real-estate dynasty, Durst is believed to have murdered three people: His wife, Kathleen, who vanished under suspicious circumstances in 1982; his longtime friend and alibi for the night of Kathleen's vanishing, Susan Berman, in 2000; and his neighbor, Morris Black, in 2001. Durst received his life sentence for Berman's murder; prosecutors argued that he confided in Berman after he killed Kathleen, then turned around and murdered her to keep her from talking. The one killing he actually did admit to was Black's, though he claimed it had been self-defense. He had been hiding out in Galveston, Texas, at the time, dressing up daily as a woman. But Black — described by the New York Times as "a 71-year-old cantankerous former merchant seaman" — somehow saw through that disguise and discovered Durst's real identity. Durst then shot him, dismembered his body, and dumped it in Galveston Bay.
The law caught up with Durst at a Pennsylvania Wegmans, where he had been shoplifting a chicken salad sandwich. (Never mind that he had $37,000 in cash just sitting in his rental car, per the Times.) Though he admitted to sawing and chopping his across-the-hall neighbor limb from limb, he said, during a 2003 trial, that his actual death had been an accident: He purportedly shot Black in the face after his gun went off while the two men fought. Seeing as no one ever found Black's head, prosecutors could not disprove the narrative, and Durst was acquitted. But the whole thing came up again during the Berman trial, underscoring the prosecution's argument that he was ready and able to kill people in order to silence them. Durst pleaded not guilty in 2016, but his account often seemed wildly, even brazenly, suspect — or, that is the inescapable implication of The Jinx, the HBO doc that ended (thanks to heavy editing) with Durst's apparent hot-mic admission that he "killed them all, of course."
It took about five years for Durst to stand trial for Berman's murder, the date repeatedly pushed because of his health; Hurricane Harvey; a surprise admission that, actually, Durst wrote the letter telling police where they could find Berman's body — "something only the killer could have written," he said in the doc — and finally, the pandemic. The trial began in May 2021 and concluded with his first-degree murder conviction in September. About a month later, state police in Lewisboro, New York, filed a criminal complaint against Durst for the alleged murder of Kathleen, 39 years after her disappearance.