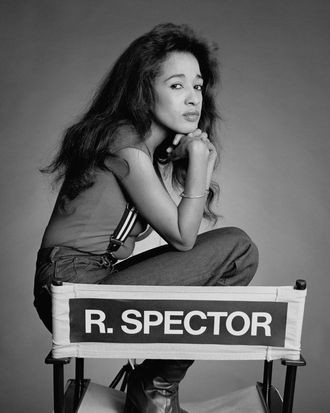 Photo: Tom Sheehan/Sony Music Archive via Getty Images
Yesterday, the family of Ronnie Spector — lead singer of the iconic '60s vocal trio the Ronettes and a cool girl for the ages — announced that the singer had died after a "a brief battle with cancer." She was 78.
Spector was born Veronica Bennett in 1943 in Spanish Harlem. Along with her fellow Ronettes, including sister Estelle and cousin Nedra Talley, Spector redefined the aesthetic of pop-girl groups from virginal purity to sexual confidence and general badassery. With her tight dresses, bouffants, and loud mascara, Spector and the Ronettes became style and music trailblazers in a time of segregation: The Bennett sisters were Black, American Indian, and Irish; their cousin Talley was Black and Indian. (In the statement about Spector's death, her family wrote that she'd requested donations be made to local women's shelters or to the American Indian College Fund in lieu of flowers.)
In the '60s, Spector rose to fame for her powerful voice, vibrato, and effortlessly stylish presence. She and the Ronettes dominated the music scene with hits like "Be My Baby" and "Walking in the Rain." The group disbanded in 1967, and the next year, Spector married the influential producer Phil Spector, who worked on the group's breakout hit "Be My Baby." In her 1990 memoir, Ronnie Spector later detailed Phil Spector's abusive, threatening behavior toward her; she divorced him in 1974. (Phil was later convicted of murdering actress Lana Clarkson in 2009, and he died in prison last year.) In 1984, Spector married her manager, Jonathan Greenfield; the two remained married until Spector's death.
As a solo artist, Spector ventured into rock music, collaborating with the likes of Jimi Hendrix and Bruce Springsteen; her legacy and aesthetic inspired musicians like the late Amy Winehouse. "​​Amy Winehouse was so great for me, because she made me feel like what I did mattered," Spector told Rolling Stone in 2016. "And it makes me continue to want to sing, 'cause what I did back then mattered: the hair, the makeup."
In her memoir Be My Baby, Spector wrote about the success of the Ronettes and of the proud sex appeal they exuded: "We weren't afraid to be hot. That was our gimmick. When we saw the Shirelles walk onstage with their wide party dresses, we went in the opposite direction and squeezed our bodies into the tightest skirts we could find. Then we'd get out onstage and hike them up to show our legs even more."
On Twitter, fans and former collaborators paid tribute to Spector's legacy.