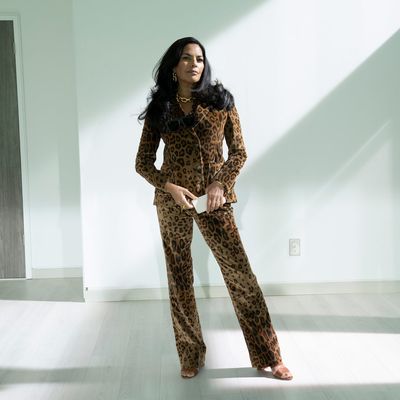 Photo: Craig Blankenhorn/HBO
When Sarita Choudhury first binge-watched Sex and the City, years after the series first aired, she was relieved to find a show universe that reflected her private experiences — she just didn't think she'd find a place there. Back then, the 55-year-old actress, best known for Homeland (2011) and Mississippi Masala (1991), was in Italy going through a "weird time" in her life. She'd just gone through a break-up and was trying to "refigure out" who she was in the aftermath. Like many viewers, Choudhury found allegiance and comfort in the show, which captured the glamorous and gritty details of womanhood with a candor that didn't exist elsewhere. "It helped me have hope," she tells me.
Fast-forward to today. Choudhury, who is of half-English, half-Indian, is one of a number of new (notably more diverse) cast members to join the And Just Like That … reboot. On the show, she plays Seema Patel, a powerful New York City realtor who befriends Carrie after selling her apartment. And yes, she's well aware that people are skeptical of the way the show's BIPOC characters appear in relation to the main cast, but as an actor, she finds novelty in being able to play an Indian woman with a fully realized backstory and a purpose other than temperature-checking the emotions of the white lead. After more than 30 years as an actor, Choudhury says that's still a rare opportunity: "It's shocking that it is new to me, but it is."
The Cut spoke to Choudhury about Seema's femme-fatale energy, walking in high heels, and the reboot's handling of race.
So what was it like to join the cast?
The first day on set was an out-of-body experience. I thought, I'm going to be cool and act casual. Then you see the sets, the clothes, the shoes. You meet the girls. There's nothing casual about it. Watching Sarah Jessica play Carrie while simultaneously being in the scene with Carrie was very surreal. I had been used to seeing Carrie on TV from my sofa at home with a tub of ice cream, and here I was, decked out as Seema, telling her to change the décor of her apartment to sell it. When I first saw the show, I never thought I'd end up on set. And once you're on set, you don't want to get fired; you want to fit in. It was new for me. I'm always in dark independent films where it's murky and my hair isn't brushed. Or I'm in Homeland, and it's, like, terrorism. I've never really done something with bright lipsticks and Cosmopolitans.
How did you approach playing Seema?
It was tough. She's an effortless boss woman, and I'm the opposite. I practiced walking in heels around the house. Usually with roles, you're trying to find a natural mode. With Seema, I approached things from the exterior: I am going to talk and walk like this; I'm going to wear makeup and sunglasses and smoke. I watched femme-fatale films, where the women wear high heels and skirts and look so good in their trench coats. I jumped into that world.
I watch the show with my daughter, and I can't tell you where Seema's arc is heading, but so far I'm enjoying watching her friendship with Carrie develop. Usually in a TV show, there's the protagonist, and you are the supporter of her vulnerabilities, but Carrie's supporting Seema, too. I'm proud of that.
In episode six, "Diwali," Seema deals with arranged-marriage pressures from her family. What did you think of doing that story line?
When you're Indian and playing a character with an Indian background, you want to make a story that's progressive and new to the audience. But within Indian families, marriage is one issue that never ends. That it's still an issue at Seema's age — I found that pretty comedic and sad and weird, but I also found it true.
Even though on one level it seemed like, Are we going back into a tradition we don't need to keep bringing up? I also do want to keep bringing it up because it speaks to real dynamics of Indian families. There's so much deep love in our hiding and rebellion. We don't consider love to be "let me tell my parents the truth." That's not our way of loving. It would be almost fake to portray it that way. We all grew up being cheeky and trying to get away with a lot. How interesting that, at 53, Seema's running an empire but still can't tell her parents the truth. I'm glad you get to meet Seema's family. It's rare to get a background when you come into a show, especially when you're not white and not necessarily the lead.
The original series was often criticized for its lack of diversity. Now there's criticism about the show's portrayal of BIPOC characters. They get story lines, but only in relation to the original cast. How do you respond to that?  
There's always going to be criticism no matter how well we pull off something or not. I've seen that with every show I've been involved with. You can't win that battle. The new characters might be associated with the originals, but they also have unique problems. They're not sitting there asking the main characters, "Oh my God. How do you feel?" Everyone's dealing with their own shit. I find that new, actually.
But you can't win. If a show was originally criticized for its original lack of diversity, it's difficult to completely repair that. Bringing in four new non-white characters is great. My whole career, when people ask me, How's it to be Indian in the business? I've never thought of it that way. Maybe that's a problem. But I never thought there were roles I couldn't take. I appreciate the show's efforts, and, of course, there are going to be some cracks as we go. But I feel like it's working, and the effort is creative and fun. That's all I can say.