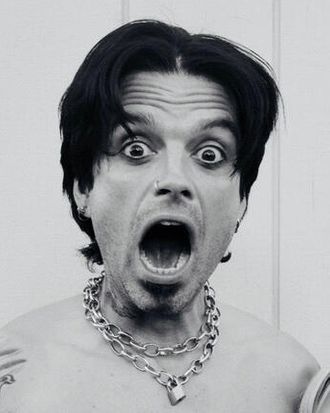 Sebastian Stan is used to working with prosthetics. His character in the Marvel Cinematic Universe has a bionic arm. But that experience wasn't enough to prepare him for Pam & Tommy, which required filming an entire scene opposite a talking animatronic penis.
The actor opened up about his, uh, intimate experience filming the scene for Pam & Tommy, the new Hulu miniseries about the whirlwind romance between Pamela Anderson and Tommy Lee as well as the leaked sex tape that would define their public personae for decades. Inspired by a passage from Tommy Lee's real-life memoir, the scene takes place after his first night with Anderson; according to director Craig Gillespie, it involved four puppeteers, an animatronic penis, and, of course, a nearly naked Stan. "You've got four puppeteers working with an animatronic penis. And then, how much is too much, and do you start to lose his emotional torment of what's going on?" Gillespie told Variety.
Stan reportedly said the scene was difficult to film, but he was able to get through it. "By the end of it, I treated it like it was an intimate buddy conversation that one might have when they're falling in love," he explained. Well, Lee's penis is reportedly voiced by Jason Mantzoukas, so I guess that's a buddy conversation worth having.
Of course, Stan wasn't the only actor who had to deal with prosthetic body parts on set (he apparently had to have all of Lee's tattoos reapplied every few days and used prosthetic nipples for his nipple rings). According to Variety, Lily James, who plays Anderson, spent at least three hours a day getting her makeup and hair done, sometimes having to arrive on set at 3:30 a.m. In a separate interview with Porter, James said her transformation involved everything from spray tans to being fitted with a chest plate. Honestly, Stan having to have a conversation with a penis puppet doesn't seem so hard in comparison.